Lady Saints Volleyball continue streak
The Lady Saints volleyball team added to its win streak with a 3-0 victory over the Dodge city conquistadors. Although the Lady Saints swept the Conquistadors, it was not as easy as the score indicates.
Coach Thais Allen said, "They just match up well with us, they read us well, they block us well, it's just a tough match against them."
Kaysie Paxton said " One of our goals is to reach nationals and I just look forward to Sunday, and we will be ready for nationals, we will be ready for our opponent."
The lady Saints take on Colby Community college Sunday in Hutchinson, Kansas.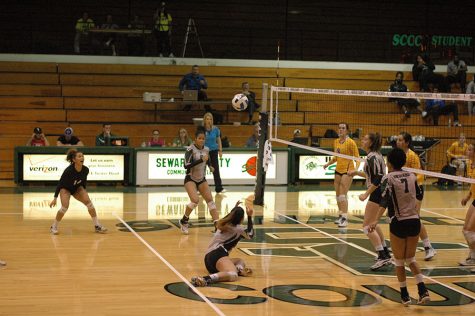 The first set, like the rest of the sets, was a back and forth match until Seward was able to get out on a 4-0 run as Kaysie Paxton scored two straight points to get the score to 11-6. Later in the set, the Conquistadors were on a 4-0 run until Amanda put it to a halt with a kill to put the Lady Saints up 3, with a score of 21-18. The lady saints would go on to win 25-22.
In the 2nd set the lady saints got off to a slow start as the conquistadors were out to 3-6 lead. A block by Mariana Nacimiento tied the game up at 7 each. Then a kill by Kaysie Paxton gave the Lady saints the lead. It was back and forth until the lady saints got on a 4-0 run, at 18-14. The conquistadors had hope of a comeback but a block by Bellissa Gouditti gave Seward the win at a score of 25-22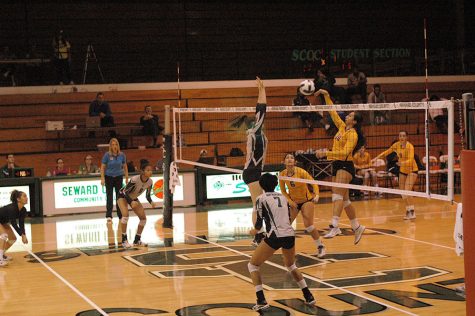 The first two sets were a battle, the third set was no different. The teams would trade points until the Lady Saints got an 8-6 lead. It would go back and forth, until the lady saints got a block that caused the conquistadors to take a timeout at a score of 20-19. The lady saints didn't give up the lead and won 25-20. The Lady Saints are ready to go on a run for a national title. A national title has been their focus all season.