Maritza Mesa named NJCAA All-American
Seward County's Maritza Mesa, was announced NJCAA All-American on Wednesday as a Honorable Mention. Maritza was a little teary eyed when her head coach Thais Baziquetto-Allen told her the exciting news. Maritza didn't believe what her coach was telling her and responded with "Don't play with me like that coach" before breaking down with tears of joy. She becomes just the 12th NJCAA All-American in the Seward County Community College program history.
Ranking second in the Jayhawk Conference in kills, Mesa's second year turned out the be huge  for the Lady Saints. The sophomore averaged 3.2 kills per set this season, the most by a Seward hitter since 2011. Although Mesa was a strong offensive force, she also had 2.64 digs per set as well as 0.55 blocks. She finished with 14 double-doubles for the season with 18 kills and 11 digs in the Region VI Championship win this year.
Head coach Thais Allen said it was fun coaching Mesa the last two years.
"You just knew she was going to be all-american," the coach said. "She put in a lot of time into practice and worked really hard to get to where she is at today."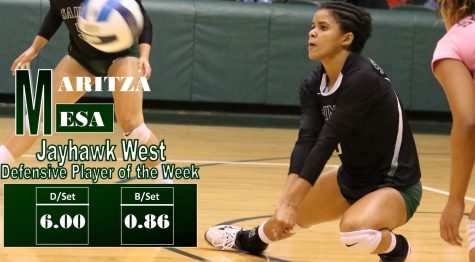 Allen also mentioned what it felt like being the next coach to take the Lady Saints to winning regionals since 2003. "As a group we decided that was going to be our goal. As a coach it's hard to determine or make out if you're doing a good job as a coach or not but it was fun coaching the girls knowing that they wanted it just as much as you."
Mesa still can't believe she was named honorable mention All-American.
"It feels good," she said. "After you've been working so hard from the summer until now, you achieve such greatness. I worked really hard."
Mesa never dreamed this honor would come her way. Laughing she said, "Before I was announced All-American, Roy [Allen] asked me if I was ready to be All-American and I answered 'I don't think they will give me All-American.'"
The sophomore hitter is looking to the future now.
"I have some offers already but I haven't made a decision just yet [where I will go next] because I want to make the right decision — you know?" she said. "I want to go to a D1 or D2 for sure."