Chemistry is secret ingredient
Lady Saints keep on winning
Each team member is a vital part of the Seward County Community College Lady Saints' basketball team. Their secret ingredient — chemistry — leads the girls to being ranked fourth in the nation and a record of 18-1.
Sophomore guard, Erin Richardson, says, "I've been on many different teams in my basketball career, but never have I been on a team like this one. I don't like to think of what it would be like without the team I have."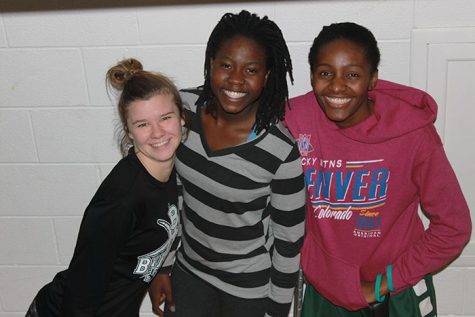 Every girl on the team brings something to the table. They spend countless hours together, on and off the court. They practice 20 or more hours a week as a team. Individually, each girl practices three times a week on average.
Every single player seems to be as dedicated as the next. They work together and it is noticed every time they play. They aspire to be the best that they can be, and to do so the team put their hearts and souls into every practice and game.
Many might wonder what it takes to be the best. It can't be easy, especially when society often expect five-plus girls to have problems getting along.
"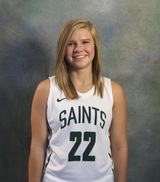 … at the end of the day we will come together. This team is special.
— Erin Richardson
Richardson responds to that with, "Girls are going to get on each other's nerves, but at the end of the day we will come together. This team is very special."
To be a great team the girls understand they have to help each other with school and advice on how to be a better player. Before the season began, the team would go out and bond with each other.
"Our bond is unbreakable and I can't imagine playing without the girls. I wouldn't want to be a part of any other team," says freshman guard, Mollie Mounsey.
People may assume that the quote "You are only as strong as your weakest link," is a bad thing, but sophomore forward, Manuela Fungate, sees it differently.
"As a group everybody has a weak part and a strong part. We complete each other," she explains. "My strong part can complete the other person's weak part and someone can complete my weak part. We are strong together."