Sister Act debuts Thursday
Students attend free with I.D.
The Divine Musical Comedy Sister Act the Musical will be presented by the SCCC Music and Theatre Departments. The musical will be performed on April 6, 7 and 8 at 7:30 p.m. in the Shank Humanities Showcase Theatre.
Gloria Goodwin is the director, music direction is by Dr. Magda Silva and Orchestra Direction is by Darin Workman.
The plot of musical is about a lounge singer by the name of Deloris Van Cartier. Deloris goes under a witness protection program, because she witness her boyfriend killing an employee. In the protection program Deloris is hidden in a convent, where she made friends with the nuns. She eventually joined the church choir. The choir was well known in the neighborhood after Deloris gives it a little twist. When doing so Deloris put herself out there and may be caught.
Sister Act was picked for many reasons, "It was brand new and they had just released the rights to the musical, I knew the music would be solid. It really just tells a really good story," Goodwin said.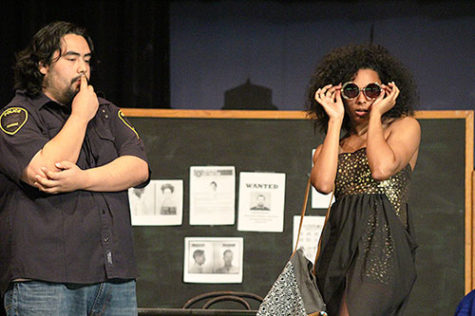 During each rehearsal, the cast keeps improving "During the last week of rehearsals what we really try to do is pay attention to the small details that really make a show go from being really good to really great. It's the details that really set a show apart, so for the last week we are finessing all the details of the show," said Goodwin.
The finishing touches during the last week include performances by actors, any special technical effects and props and many other little details.  
Sander works with scene changes. Sander spins the disco ball and helps move things around so scene changes run smoothly. Sander mentions that the acting is amazing and the people performing are all so talented.
"People should really go out to see the musical, because it will be a great show. Everyone involved has been working so hard for everything to come out good in order for the audience to enjoy the musical," Cody Sander said.
Ana Escobar has heard many positive remarks about the musical. "I'm excited about the musical and can't wait to go see it since many people are saying that it's going to be really good," Escobar said.
Buy your tickets before it's too late. Last year the musical Hairspray was sold out and many people didn't make it.  "In the past when people have procrastinated or missed the show they always come to me with horrible regret, because they hear other people talking about how great and fun it was," Goodwin said.
Students can get their free ticket with their students ID. Anyone else planning to attend can reserve their tickets with Terri Barnes at SCCC or call 620-417-1451.