SCCC Hall of Fame inducts Colvins, Auger
On Friday, April 21, the Colvin family and former softball player Courtney Auger will be placed into the Seward County Community College Athletics Hall of Fame for their great achievements in the community.
Roy Allen, the Sports information director and assistant athletic director for SCCC, said "The Colvin family has been a huge part of school activities and the education. They funded a lot of scholarships for band and cheerleading."
The family, while supporting the team in town, they also showed their support everywhere they went. They own many Pizza Huts in order to feed the team. These two people did extraordinary things, and they were just regular community members that wanted to lend a hand.
Allen described Virginia as a Saint in every way imaginable. She stayed in tune for the Saint's games until her last day.
Their son Kent Colvin, the booster club president, now has taken over. He is just as supportive as they were. Where more donations were made by him to the community.
At the banquet Friday he will be accepting their reward, and giving a speech as well.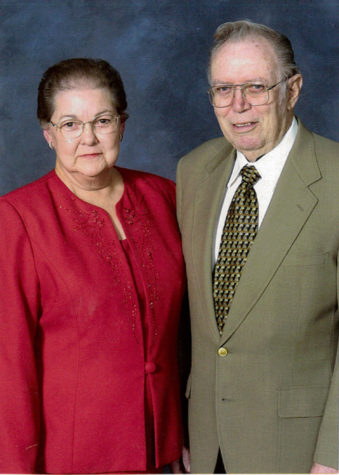 The next person getting a place in the Hall of Fame is Courtney Auger. She was a past softball player, that helped the team tremendously.
As said by Allen, "She's far one of the best softball players, so it be fitting she would be inducted into the Hall of Fame."
Andrea Gustafson, the head softball coach had some good things to say about Auger. Gustafson continued, "She was the first pitcher ever to lead us into the World Series. We had not realized how good she was at first, until spring the first year she was playing, she had 17 strikeouts. Striking people out, we then knew how good of a pitcher she was."
Gustafson also described how she really appreciated Auger for everything she had done.
"Every team she had just loved playing with her. She gave the kids out there the confidence they needed. Appreciating everything she did for us and where she got us at world history."
Auger finished her career ranking 1st or 2nd in every major category. Also included the All-Time Leader in both wins with 46 and strikeouts with 558. These totals were more than double the next highest total. Her career line with the Lady Saints is : 46-15, 1.52 ERA, 380 IP, 558 K's. She also holds the top two single strikeouts marks in school history and the two of the top three ERA places. Auger was also named the Jayhawk West Most Valuable player in both of her seasons here at SCCC. She was also a third team NJCAA All-American in 2009 when she lead her team to their first ever trip to the NJCAA National tournament.
In getting in contact with Courtney Auger, I had the pleasure of interviewing her dad Wayne O.J.
He said when Auger started to play, she started to blossom by developing her skills more and more. He is really excited for her to finally be inducted into the Hall of Fame.
"I'll always have a special place in my heart for her, her school and the team."
Just as I talked to him you could hear the excitement in his voice as he first talked about coming to liberal for their daughter.
"She was never homesick, she absolutely loved it there. Also while at SCCC, she developed special bonds with all the players. It was a great experience."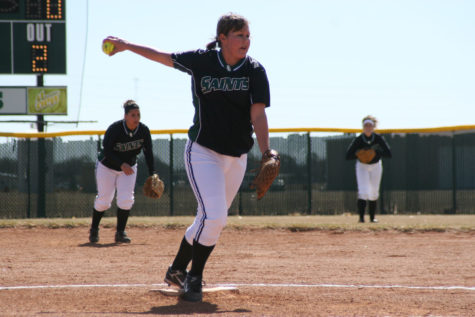 When I got to interview Ms. Auger about her first experience here, she described she loved going to school here at SCCC.
"Since it's a small campus I was able to meet people and become friends with almost everyone in my class. Also the teachers were really easy to get along with and very accommodating with my softball schedule at the time. The school helped me as much as they could and in whatever way possible.
You basically knew everyone and no one was shy with giving you a smile or saying hello. It's such an inviting community and I am happy that I was able to be a part of it" She had Andrea Gustafson to thank, for pushing her. In the end she got this award.
"I would have never been at Seward if coach Gustafson had not taken the chance on me. She kicked my butt and I was able to accomplish what I needed to with her help."
Auger was also given 3rd in Team NJCAA All-American in 2009 when she lead her team to their first ever trip to the NJCAA National tournament. She absolutely loved it here in SCCC, she didn't just play to win but because she loved softball.
Auger said, "You never play with the intention of being an all American. You play because you love it, and because you want to do the best for your team. The award is just a bonus. A reflection of the hard work that you put in and the coaches and team behind you."
These three people did great things for the community. The Saints Athletics Hall of Fame Banquet in which they will be inducted will be on Friday, April 21.