Seward hosts Poetry Coffee House
Each year Seward County Community College hosts a poetry session for students and adults to express themselves. This year is the seventh annual poetry contest which was sponsored by the English Department.
Eric McHenry was the special guest of honor. He is known for his poetry nation wide. McHenry was born in Topeka and he is an English Professor at Washburn University, Topeka.
English instructor Bill McGlothing opened and ended the night with very humorous comments that the audience found very amusing. McGlothing then presented Eric McHenry the Kansas Poet Laureate.
The first book McHenry wrote of poems is Potscrubber Lullabies. This book got him the largest American prize which was the Prestigious Kate Tufts Discovery Award in 2007. 
When McHenry and his wife first had a child they were living in an old apartment, which had a dishwasher that would break down often. The dishwasher was always loud throughout the night since there was complete silence. They didn't want the baby waking up, so they decided to turn it off throughout the night. "Turns out the dishwasher was what would put our baby to sleep, it was like his lullaby, and this is where I got the title to my first book" McHenry said.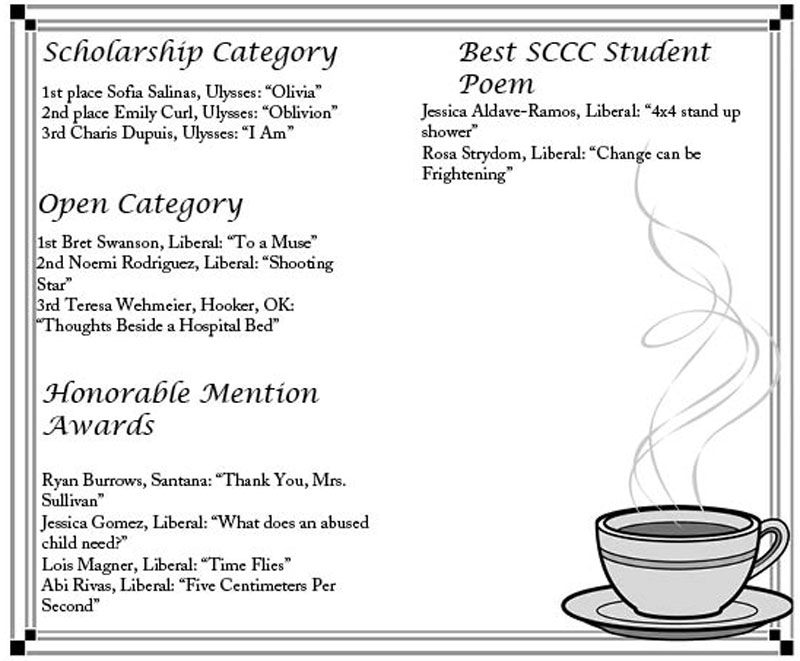 The best SCCC student poet was Jessica Aldave-Ramos. She described her poem 4×4 stand up shower as "an extension of herself." Aldave-Ramos did not think she would win first place in poetry, because she is very judgmental on herself.   
Even though Aldave-Ramos was excited to find out she had won, she was also nervous. "As the day kept approaching I would get more nervous each day."  
The meaning of this poem to Aldave-Ramos is a moment that happened in her life. "It helped me grow and accept myself for who I am" she added.
She has always liked poetry which was what made her decide to enter. "I really enjoy poems with emotion, each one is different and you never get the same poem twice." Aldave-Ramos said.
After the event McHenry said "I would say poetry chose me I didn't choose poetry. For the little gestures given were my motivation."