Review: SCCC cafeteria brings new changes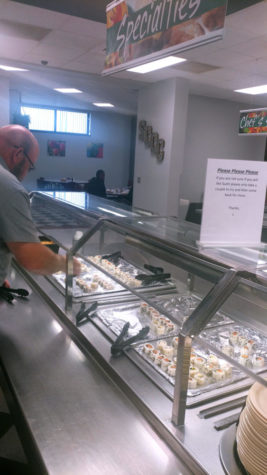 The cafeteria menu made some changes after spring break, especially the menus for lunch and dinner. On the Campus Portal Home LookingGlass the breakfast, lunch and dinner menu is updated everyday. This is good way of knowing if you'll want to eat in the cafeteria that day or possibly eat out.
On April 27, during lunch, the cafeteria served sushi, rice, pizza, chicken nuggets, burrito, salad bar, bread and broccoli. The rice from the sushi was very tasty and chewy.
The salad bar had many different kinds of vegetables, so I could choose what I wanted to eat with different salad dressings. There are also a variety of fresh fruits. The sandwich bar was improved as well with the new varieties of bread.
"Today, I ate rice and chicken nuggets. The chicken nuggets were really good. I like the new cafeteria, because there is a food bar and we have more options," sophomore Judith Perez said. The broccoli was mixed with other vegetables, which were mushrooms and green soybeans.
 The cafeteria had sushi for the first time. "The combination of sushi and soy sauce is so amazing. I like Sushi, but it was a little bit different than what I ate before. The sushi was good and I loved it, but it could be better," Mollie Mounsey said.
Some people have never ate Sushi before.  "I've never ate sushi before. I was scared to taste something new, so I just chose rice and chicken nuggets. I like the new cafeteria, especially when they have spaghetti with big potatoes, that's my favorite," freshmen Aysia Harper said.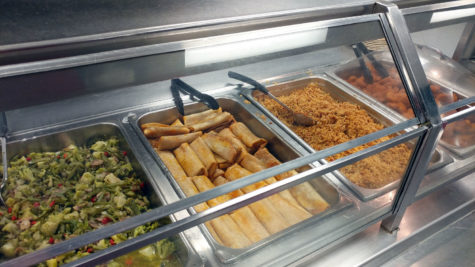 Some people believe that the cafeteria is getting better and that they like the new improved cafeteria. The cafeteria now has a chef that prepares different food from shrimp to pasta.
The cafeteria is available to anyone on campus including visitors. Each meal is $5 whether it's breakfast, lunch or dinner.