Student athletic trainers are ready to help
Seward County Community College has a student's athletic training room. It is located next to Green House and a lot of student athletes go to see the trainers. There are six trainers who can help the student athletes.
"I started helping people, because my goal is becoming an athletic trainer professionally, and I am also a presidential of scholar. I still want to be involved with athletic training so I do this student training voluntarily. I love sports and that is big part of why I do like athletic training," sophomore Emmanuel Serrano said.
Although Serrano can't play sports, he loves being part of the student training. "I know a couple of athletic trainers professionally, they inspired me a lot because they're always helping students and not only physically but also mentally. They are kind of a coach to me," said Serrano.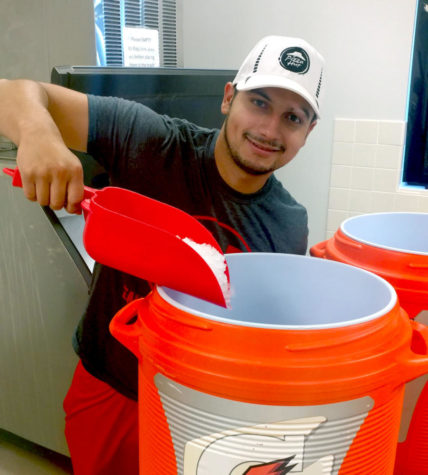 Sammir Martinez plans to be a physical therapist and the opportunity to work in athletic training is helping him accomplish his dream.
"I started in the athletic training, because I knew Emmanuel had told me there was an opening, and there were also book scholarships offered," Martinez said.
The athletic training center is open everyday. Athletic trainers work almost everyday except on weekends. The athletic trainers are constantly busy, but they don't mind helping others.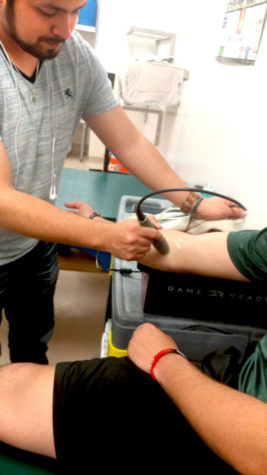 "What I do at the athletic training room is help out with getting jugs ready or picking up jugs from the baseball field or softball field. I start cleaning up the tables and emptying game readies. If someone needs a Game Ready or if someone needs E-Stim, I get those ready too," Mario Cardenas said.
Cardenas also mentioned that he has learned how to correctly tape an athlete's ankle since being an athletic trainer
"I'm a CNA, and it's a little different from this job but I like helping. This is my passion. If anybody is interested in athletic training or physical training, I would suggest coming here and getting the hands on opportunity to see if you like it or not. If not, then you can try somewhere else," physical therapy major Oney Trujillo said.
Athletic trainer is helping a lot of student athletes take care of their bodies whenever they compete in their sport. They have a passion for helping people and they want to have the experiences for their future.