SCCC hosts hurricane relief efforts
When the Seward County Community College athletic department heard that Hurricane Harvey in Southeast Texas impacted many current and former Saints and Lady Saints, they took action.
Saints athletics will collect donations and money through a variety of events this next week.
"The athletic department tries to go by the motto "Once a Saint, Always a Saint", so when we started getting calls and texts from former athletes, we knew something needed to be done." Ian Applegate, SCCC Sports Information Director, stated.
All donations that are collected at each event will be sent directly to former SCCC students and their families. With help from the SCCC Booster Club, there will be an account set up for all funds to be collected and distributed.
Along with non-perishable foods and drinks, toiletries, and clothing items, cash and check donations will be accepted. Checks can be made out to the SCCC Booster Club, while cash can be dropped off at the Seward County Athletic Department offices. Any non-monetary donations can be dropped off at the Athletic Department offices as well.
As a whole, the athletic department staff is extremely proud to be part of something that is bigger than all of us.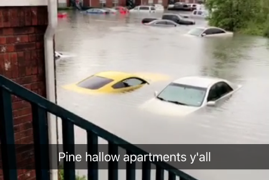 "When you hear from people who are directly being affected, and that you know, it really hits home. Former Saints and Lady Saints aren't just former athletes, they're part of the Seward County family and they need our help right now," Applegate said.
The SCCC Athletics Departments invites the community to join in on the efforts.
"All of the events that we have planned are for more than just campus. Although they are all taking place on campus, we want everyone to get involved," Applegate declared.
The Hurricane Relief efforts will take place on campus, and will happen as followed:
Lady Saints Volleyball
During the Lady Saints home match on Wednesday, Sept. 6, there will be a station to drop off non-perishables, toiletries, and clothing.
The storm has hit close to home for the Lady Saints program as 2015 setter, Jade Piper, has seen her home-town of Orange, Texas devastated by the rising water.  As of earlier this week, Piper's sister and one year old son were trapped in her parents' home as they pleaded for a rescue boat to come to the residence to get them out.  
Making matters worse, Pipers nephew, who has already battled his fair share of adversity during his first year of life, needs breathing treatments, which the storm has now made impossible.  
Saints Basketball
The Saints Basketball team will be hosting a Free Throw-A-Thon on Sept. 9. Players will be shooting 100 free throws during the event. Participants looking to donate can pay a flat rate for a player, or pay per made free throw for a player.
To sign up to support a Saint for this event, please call Coach Luke Adams at 620-417-1557 or be on the lookout for a basketball player on campus.  
Saints Baseball
The Saints Baseball team will be available to be rented out for a day's work to any business or person. The team is available for work on Sept. 4, Oct. 9, or Oct. 10. All funds collected will go to former Saints lefthander, Jose Gonzalez, who earlier this week was stuck in the 3rd floor of his apartment building and has seen total devastation in his Houston neighborhood.
To rent out the baseball team, please call Coach Galen McSpadden at 620-482-5682.
Lady Saints Softball
The Seward County Softball team will have a table set up on Tuesday, Sept. 5, outside of the SCCC library where donations can be made. They will be accepting non-perishable food, toiletries and clothing as well as cash and check donations.
The community is encouraged to attend any relief event or donate any possible items.
"Anyone can call Assistant Coach Luke Adams about being a sponsor in the basketball team's Free-Throw-A-Thon. We're hoping that all of the fans who attend the home volleyball match on Wednesday will bring some sort of donation. We have a semi-truck leaving on Tuesday that will take supplies and a U-Haul leaving the following week to get the remaining donations. Nothing is too big or small. Any donation is welcome," Applegate stated.
SaveSave