SCCC hosts transfer fair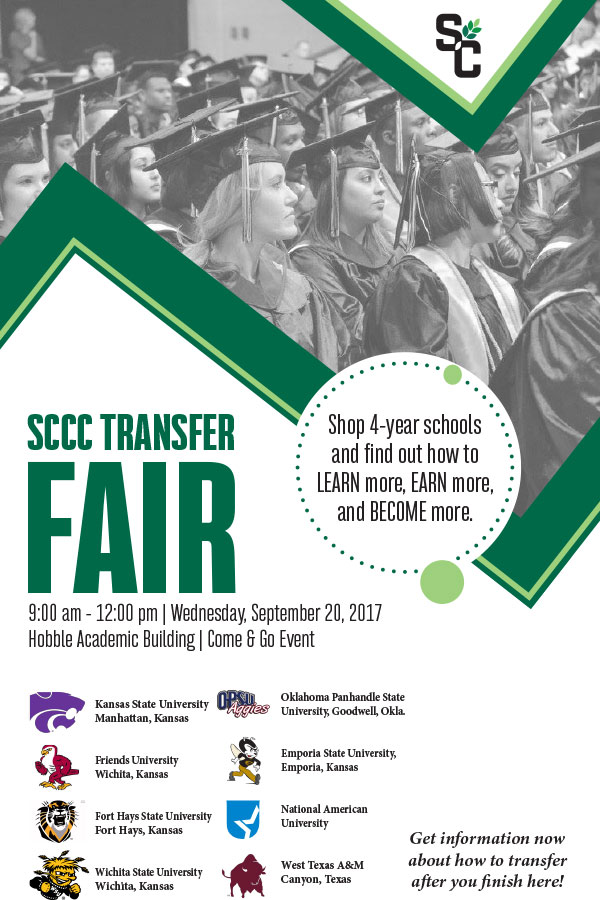 Amberley Taylor, Copy Editor
September 18, 2017
Seward County Community College is hosting a transfer fair on Wednesday, Sept. 20, for students looking to transfer to a four-year university. This come-and-go event will begin at 9 a.m. and continue until 12 p.m. in the Hobble Academic Building.  The transfer fair is being hosted by Janeth Vazquez, SCCC Transfer Coordinator.

For many college students, education doesn't stop after two years of college. Most degrees take at least four years to complete. Some students choose to go straight to a four-year university, while others choose to go the junior college route.

If you start out at a JuCo, you will have to transfer to the four-year university of your choice after two years. Making sure your credits transfer from the JuCo to the university can be stressful, but with events like the SCCC transfer fair, it can be done.

"If you're interested in getting your bachelor's degree, but aren't sure what steps you need to take, you must come to the Fall 2017 Transfer Fair. This event will help students understand the transfer process and introduce them to a number of colleges that might fulfill their educational goals," Vazquez stated.

At the transfer fair, SCCC students will have the chance to meet with 10 universities like Kansas State University, Oklahoma Panhandle State University, Friends University and more. Students will be able to learn information about each school's campus life, admissions policies and programs.

While visiting with these colleges, you will be able to see which school best fits you, your future goals and which school your credits will easily transfer to.

"

The transfer fair allows students to be one step ahead of the game."

— Janeth Vasquez

.

"It allows them to build rapport with someone from the institution and collect all the information they need. The nice thing about having multiple schools is you can compare programs and ask questions to determine which institution will be a better fit," Vazquez explained.

In addition to attending the fair, students are able to fill out the admissions application, learn important deadlines for the upcoming academic year, and receive information about scholarships for transfer students.

The transfer fair allows students to be one step ahead of the game.[/pullquote]If you are planning on attending the fair, you are encouraged to write down questions that you want to ask each representative from the schools like if they have the major you are pursuing, if your credits will carry over and if you will be able to enter as a junior or if you will need to take additional general education or core courses. It is also encouraged to ask about the availability of scholarships or financial aid specifically for transfer students.