Concealed carry laws change
Student's voice their concerns about carrying guns on campus.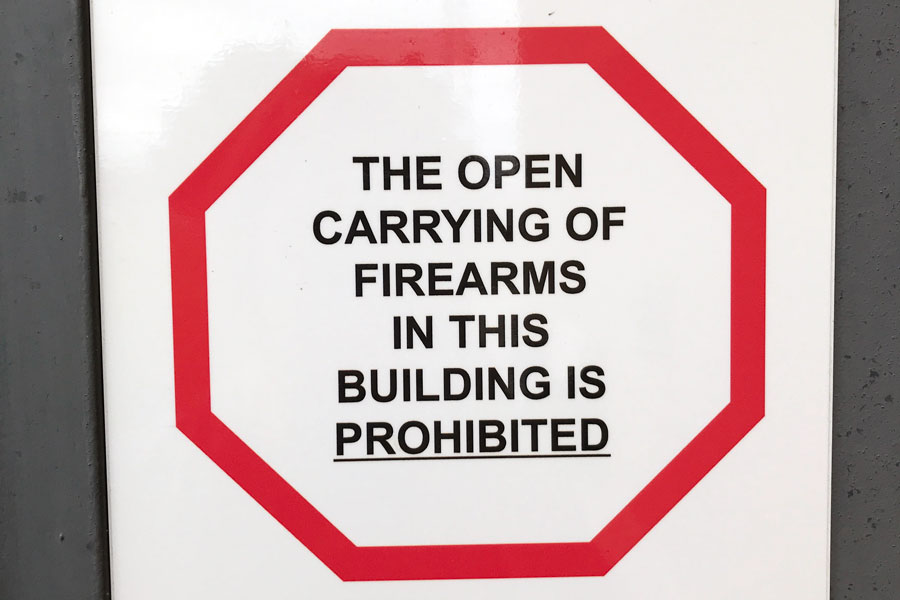 Students can now be exposed to firearms on Seward County Community College's campus. On July 1, 2017, the concealed carry law in Kansas became relevant to college campuses, including SCCC. Many students are unaware of this new gun control law.
Students that are legal citizens and at least 21 years old are able to carry a concealed firearm with them on campus. There are some restrictions to this law; International students without a visa or green card are exempt and not allowed to carry on campus.
SCCC is now implementing the legislation which was passed four years ago, giving campuses time to prepare. Proponents of the law say the overall goal is to allow students to exercise their right to protect themselves in a time of need and to make them feel more safe.
Seward County students have their own opinions about the new law. Lesly Mendoza, a freshman general education major, is one of the students that is unhappy with it.
"I see why some people would want to carry a gun, but for me personally, I just don't feel comfortable knowing a student can pull out a gun at any given moment," Mendoza stated.
---
For some students, the concealed carry law is a good idea.
Jose Alvarado, sophomore music education major, is a supporter of the law. Although he isn't old enough to carry yet, he feels like it's important.
"When people see guns, they tend to be paranoid. With this new rule, it will make guns seem more acceptable and will stop the illusion that guns are bad. In reality, guns aren't bad; it's bad people with guns making bad decisions that make guns seem bad," Alvarado said.
Odalis Marin, a freshman science major, mirrored Mendoza's feelings. She said that she felt scared when she first heard about the law because "you never know if your peers will use it responsibly." She feels uneasy and does not feel like she can trust the people around her.
Other students like freshman education major, Remington Trevino, support the decision fully.
"Guns make people feel safer. We have had guns for years and they are just now becoming a nuisance because anyone can get a gun now a days. That's why concealed carry is important; so we can protect ourselves from the people who are making unsafe decisions with guns," Trevino stated.
While some students are all for carrying, and some are completely against, there are those with mixed feelings.
Sophomore pre-med major, Eddy Sanchez, has mixed feelings about concealed carry. He sees the good and the bad.
"
It can be good and bad in many different ways. Some people feel safe knowing that they can protect themselves using conceal carry."
— Eddy Sanchez
"It can be good and bad in many different ways. Some people feel safe knowing that they can protect themselves using conceal carry. But, on the other hand, some people might feel intimidated knowing that someone is walking around with a gun. It's kind of a back and forth battle," Sanchez stated.
Whether students agree or disagree, the legislation passed and will remain in place. Concealed carry has some students questioning SCCC on how they plan on handling the situation. Leif Kinser, a general education major, has many questions about what the school will do.
"Will they be doing background checks? Will they be holding mandatory gun safety/handling classes or are they going to be doing both?" Kinser stated.
SCCC Director of Safety, Dennis Mulanax, provided answers to some of the students questions.
"The college isn't going to do background checks on those that want to carry a concealed gun. To do so would be illegal. We have and will continue to hold concealed carry classes as we have since concealed carry was first legalized by Kansas. Since the law allows qualified persons to carry concealed, it cannot be mandatory to make such qualified persons attend a class. Again, this would be an illegal action."
Mulanax also talked about the safety and his feelings about carrying on campus in an email sent to SCCC students and staff.
"Fundamentally, I do not want weapons of any kind on this campus. It's already a known fact that firearms, and weapons in general, have caused far more problems than what they have solved. I already know this policy and law may stir up some emotions, questions and complaints," Mulanax stated.
As a student, feeling safe on campus is important. While SCCC had no choice in implementing the concealed carry law, they do however have the power to educate their students.
Providing gun safety classes and soothing the fear of students by addressing their questions and the issue at hand will help students to be at ease with the new laws. If you have any more comments or concerns, you can contact Mulanax for a better understanding.
"Please visit with me if you feel the need for more clarity and understanding," Mulanax said in the email previously mentioned.