Students let off some steam
One on one, shot after shot, Austin Callaway wins the game against Diego Becerril in Bongo Ball.
"Going into the game I honestly thought he was going to win," Callaway said after the game.
On Oct. 16, Seward County Community College had Bongo Ball as an activity for students.
"Having a time in between classes with these activities is an easy way to release stress" Becerril said.
Bongo Ball is similar to paintball. The point of the game is to simply take everyone out. The game is fast paced with an obstacle course. Bongo Ball can be played with teams or one on one. Before the game starts, each player is equipped with helmets, chest protectors and the air cannons. After being hit twice, the player is out.
The rules can be changed depending on who is playing and how they want to play.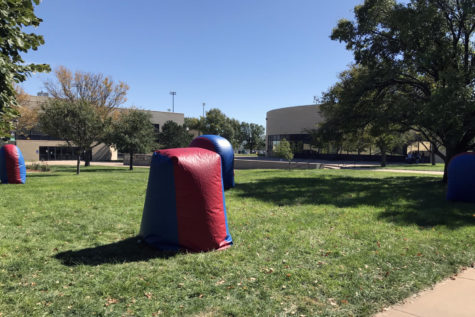 Alexander Pierson played in a game with two teams.
"Going into the game, my strategy was getting as close to the opponent without getting shot at," Pierson said.
Several students who watched the games mentioned that being on the sidelines could be a little intimidating since the balls are shot really fast and in all directions.
Pierson also mentioned that activities like Bongo Ball are a great way to get people involved and relieve stress.
Callaway and Becerril both added that the game is an easy way to release steam and get their heart rates going.
After the games, students mentioned that it would be cool to see more activities because it gets more people involved.
"I'd definitely like to see SCCC bring paintball and laser tag" Becerril said.