Lady Saints seek to return to nationals
After a huge, successful 2016-2017 season, the Seward County Lady Saints and fans have high hopes for the upcoming season. Last year, the Lady Saints finished the season ranked 4 in the nation; they are looking to repeat their success and make it to the nationals once again.
Head Coach, Toby Wynn, will return as head coach, alongside his new Assistant Coach, Carlo Walton. Of the roster from the previous year, only four players returned. To add to the roster, 12 freshmen were added.
"We have four sophomore's back setting the culture from last year's program. They help set the tone for the freshmen to adjust to with practices," Coach Wynn said.
Brennyn Seagler, forward; Valerie Caro, guard; Vanessa Caro, guard and Mollie Mounsey, who also plays guard, are the returners from the 2016-2017 Lady Saints roster. All four Lady Saints are returning stronger than before and are ready to take on the upcoming season.
Diana Gomez, Amy Scott, Kalen Green, Daelynn Lee, Lexi Hernandez, Melena Credle, Silvia Veloso and Chelsea Lazenby are the added freshmen guards. Sidney Tinner and Journey Greene are freshman forwards. Carla Covane and Vilma Covane are freshman centers.
"We definitely have good depth. We have a lot of players who can play, so our bench will be looking deeper than it has in the past years. It appears that we have a team who can shoot well around the perimeter," Coach Wynn said.
Mounsey has been recognized as the 2017 NJCAA All-American. Last season, Mounsey became Seward's first freshman to receive All-American honors, putting together one of the best individual seasons in SCCC history. The guard had nearly 700 points on the year at a clip of 19.9 per game, while draining 143 three pointers, 28 more than any other player in the nation that season.
Mounsey was also the Jayhawk Conference Most Valuable Player and the conference's Freshman of the Year, leading the league in scoring while also leading Seward to a Jayhawk Conference title.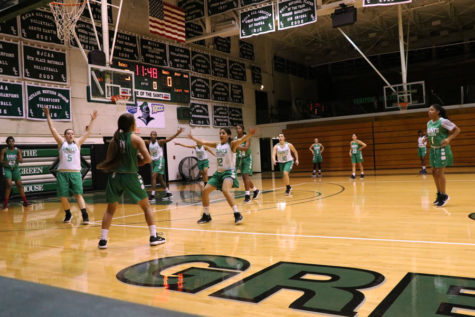 "Being a 2016-2017 All-American was just unbelievable. I definitely wouldn't of done it without my team. My goal is not only to repeat being an All-American but to also win the championship. Hopefully if we win the championship, then possibly the All-American will fall in it's place," Mounsey said.
The toughest game of the season for the Lady Saints is going to be against rival, Hutchinson Community College. Seward County will be competing against HCC on Saturday, Nov. 11, in the Greenhouse at 6 p.m.  
"Our league is tough. Obviously the first game that jumps right at you is Nov. 11 against Hutchinson Community College. They won their region multiple times and it doesn't get easier for us," Coach Wynn said.
One of the main goals for the Lady Saints 2017-18 season is to reappear at the National Tournament.
"We're hoping to get back to nationals again this year. This is our standard for our program. Every year it is expected for us to return back to nationals," Head Coach Wynn said.
The Lady Saints will start their official season on Saturday, Nov. 4 against Hesston College, in the Greenhouse, at 2 p.m