Lady Saints finish regular season undefeated
Hang on for a minute...we're trying to find some more stories you might like.
After a tough season of competing against a conference of strong teams, the  Seward County Lady Saints managed to stay undefeated; finishing with a record of 16-0. Not only did the Lady Saints finish undefeated, they also set a record for the most conference wins in SCCC program history. On Saturday, Oct. 28, the Lady Saints faced the Hutchinson Community College Blue Dragons.
In set one, the Lady Saints started with their usual momentum they carry and tried to distance themselves from Hutchinson. Although the Lady Saints began an early lead, Hutchinson wasn't ready to lose.
HCC fought back well enough for the Lady Saints to trail throughout the remainder of the set, until finally tying the set up with a score of 22 for both teams. Unfortunately for the Blue Dragons, multiple Lady Saints produced deadly kills and finished the set with a score of 25-23.
After winning set one, Seward showed no fear in set two by taking another early lead. Even though the Lady Saints took the lead, they didn't manage to hold on to it for too long, this gave the Blue Dragons a chance to catch up and take control with a score of 21-20. Towards the end of set two, it started to look like a tennis match, both teams would trade points, having the crowd on their feet and cheering. Luckily for the Lady Saints, Luz Sierra took over and scored four out of the remaining five points of the set, giving them the win, 27-25.
As for set three, the Lady Saints began to lose their confidence as the Blue Dragons fed off of their unusual errors. Sadly for SCCC, they couldn't focus and find the rhythm they needed to close out the match in three sets. The Lady Saints would try to catch up by having a couple of kills but Hutchinson's' defense prevented them from being able to bounce back. Seward attempted to regain their confidence but failed, giving HCC the third set by a score of 25-20.
Set four was the best set of the night for the Lady Saints. They took an early lead, but the blue dragons couldn't seem to give up the game just yet. This led both teams to be tied with the score of 11-11.
The Lady Saints fed off cheers from the roaring fans and gained the confidence to separate themselves. The crowd was cheering as loud as they have all season during set four; yelling and making noises at the Blue Dragons, trying to distract them. Unluckily for Hutch, Giovanna Tapigliani ended the final set with one of her thundering kills, which gave the Lady Saints the victory, 25-22.
Seward finished overall with a .344 hitting percentage, 8.0 blocks, 69 digs, and 4 aces. Compared to Hutchinson, who finished overall with a .240 hitting percentage, 9.0 blocks, 48 digs, and 5 aces.
Nathiellen Machado held the libero position, having 21 digs and 31 receiving attempts without a single error. Tapigliani (12), Viviane Viana (11) and Brianna Domino (10) each finished with double-digits digs. Sierra finished with a team high of six blocks.
The Lady Saints will begin their postseason play on Tuesday, Oct. 31, at 6:30 p.m in the Greenhouse. They will be competing against the Pratt Beavers in the first round of the Region VI Tournament.
Hang on for a minute...we're trying to find some more stories you might like.
About the Contributor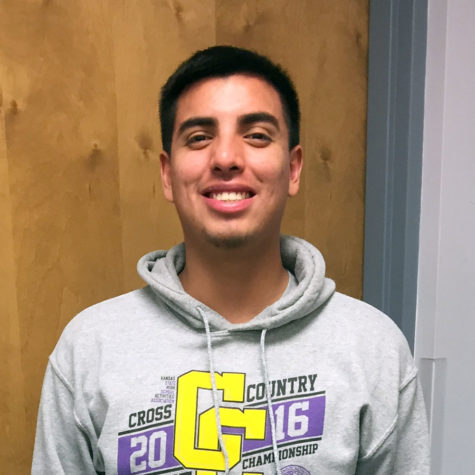 Angel Meza, Sports Editor
Angel Meza is 18 years old and was born in Denver, Colorado. He moved to Scott City, Kansas at the age of three. During sixth grade, he moved to Satanta and graduated from Satanta Jr-Sr High School. His main hobbies are exercising, sleeping and watching Netflix. His favorite movie is "Pursuit of Happiness" because he relates the movie with himself and his younger brother.