Saints regain their momentum after defeating Concordia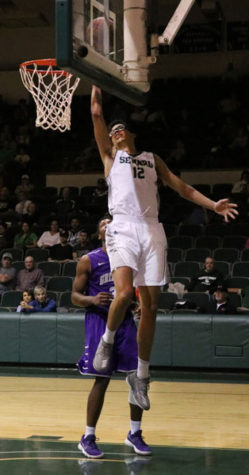 After a tough start against conference teams, the Saints managed to come out with their first win against Cloud County Community College on Saturday, Nov. 18, at Concordia. Even though Cloud County beat ranked 1 Hutchinson Community College and SCCC fell short to them, SCCC managed to destroy Cloud County.
The Saints showed up to Concordia for one thing, which was to take care of business and defeat Cloud County and to set a tone for the rest of the season. Since the beginning, Seward played very tough defense, which lead Cloud County unable to carry momentum and score. The Saints lead the first half, with a final score of 24-13.
As for the second half, it definitely belonged to the Saints once again. Unable to respond, Cloud County kept having errors and miscommunication, which the Saints took advantage and increased their lead. The lead started with a 10 point lead and quickly jumped to a 20 point lead at one point, but Cloud County kept fighting and only dropped it down to a 17 point lead towards the end. The final score of the game ended up being 56-39, which was the Saint's first conference win for the season.
The leading scorer of the night was freshman Jordan Mitchell, scoring 13 points, six rebounds, two assists and two steals. The Saints shot 36.2 percent from the floor, leaving Cloud County with just 22.6 percent.  
The Saints will compete on Tuesday, Nov. 21, as they travel to Great Bend to go against Barton Community College at 8 p.m., following the Lady Saints game at 6 p.m.