Mounsey makes an impact
From the court, to the classrooms and even by being a Resident Assistant, Mollie Mounsey has been making an impact at Seward County Community College ever since she arrived on campus in the fall of 2016.
Coming from a small town in Texas by the name of Follett, Mounsey decided on SCCC because of many different factors.
"I chose to come to SCCC because it was close to home and because of the program's success. Also, I wanted to play for Coach Wynn," Mounsey said.
Mounsey decided on becoming an RA for her sophomore year and hasn't regretted it since.
"I decided to become an RA because it paid for my dorm fees. I love it so far," Mounsey said.
Overall, she has exceeded many expectations both academically and athletically. In the classroom, students and teachers said that Mounsey excels in more ways than one.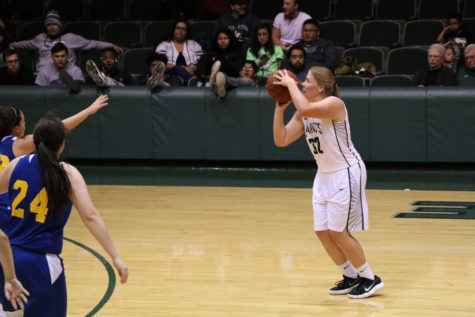 "She has a very strong work ethic in the classroom and the most pleasant demeanor. Mollie is a true Saint," Ty Hughbanks, biology instructor, said.
Aside from being an outstanding student athlete, Mounsey is one of the friendliest faces on campus. No matter who you are, Mounsey will be sure to say hello and acknowledge you. Mounsey attends all student events she can and tries to be involved in any way she can.
On the basketball court, Mounsey helped the Lady Saints reach the National Tournament as a freshman. Mounsey started every game for SCCC, averaging 19.9 points, 5.5 rebounds and 3 assists per game as a freshman.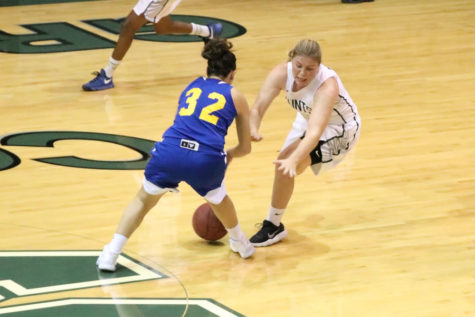 Mounsey has been recognized for many honors such as: NJCAA First-Team All-American, Fall Athletic Director's Honor Roll, NJCAA National Player of the Week, Jayhawk Conference Player of the Week, First Team All-American and also led every collegiate basketball player in EVERY division, in the most three-pointers made.
Not only does Mounsey lead the team in scoring, but she also encourages them and helps them to play their hardest in every game.
"Mollie is the most humble kid I have ever met she cares more about her team than she does herself," Assistant Women's Basketball, Carlo Walton, said about the all-star. 
Overall, Mounsey has made her mark at SCCC throughout her two years here. In the fall of 2018, Mounsey plans to continue her academic and athletic career playing and studying at Colorado State University in Fort Collins, Colorado. Mounsey decided on CSU because of the atmosphere and the coaching staff the university provided.
"Everyone is super nice and the campus is absolutely beautiful. The coaching staff at CSU is incredible. They're great people and great coaches. I am most excited about getting to experience different things at CSU. Seward County is like home to me and I will miss it very much when I graduate," Mounsey said.