Cup of Cheer!
Good recipes baked from your dorm!
We all have a sweet tooth, well most of us anyways. When it comes to those intense craving for something sweet it may not always be available, especially when you live in the dorms. I have found some solutions for the holidays. I have found four recipes of baked goods that can be done right from your microwave, because let's face it, cafeteria food doesn't always cut it. Crusader decided to try out these recipes and see how they came out.
Cinnamon Roll in a mug!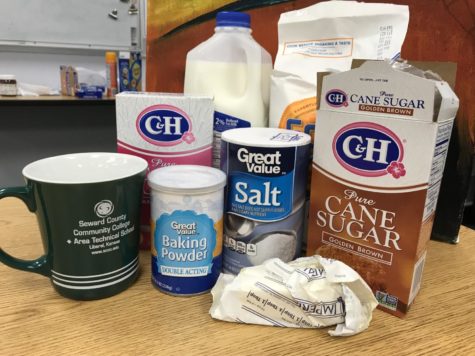 This recipe is quite easy and if your down to dough some dough it can be quite fun.
Ingredients:
A mug of your choice
9 level tablespoons of all purpose flour
¾ teaspoon of baking powder
⅛ teaspoon of salt
3 to 4 tablespoons of milk
1 tablespoon of melted butter
1 tablespoon of cinnamon
1 tablespoon of sugar
4 tablespoons of powdered sugar
Instructions:
Mix all the dry ingredients together, then add the tablespoons of milk. It should be a dough substance. 

Knead the dough a couple times then roll it into a long strip (about 4 inches wide) then use the melted butter and brush the top.

Sprinkle the cinnamon and sugar on the top of the dough.

Roll it up and put it in the mug. Microwave it from 45 to 60 seconds. (The time varies on how big your mug is. It can be in there for longer than 60 seconds.)

Mix the powdered sugar with some milk to make the glaze. Add to the top of the cinnamon roll and enjoy!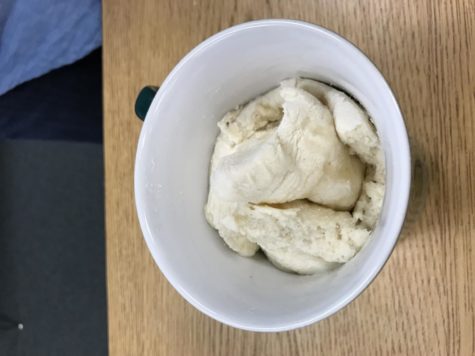 This recipe can get messy pretty fast, so I suggest to have paper towels on standby. Also I had to leave the mug in for extra time in the microwave and when it was done it tasted mostly like bread. It wasn't terrible, but it was so not what I expected.
Cheesecake in a mug!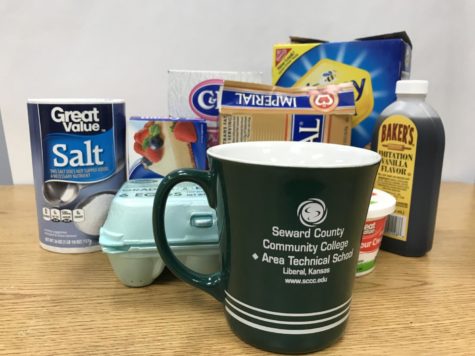 This recipe was a complete fail since I didn't  have access to a proper egg beater, but maybe it will work out better for you than for me.
Ingredients:
A mug of your choice
2 graham crackers
1 tablespoon of melted butter
1 egg
2 oz of cream cheese
2 tablespoons of sour cream (or yogurt)
2 tablespoons of sugar
1 teaspoon of vanilla
Instructructions:
Crush the graham crackers and tap the cookies into the mug. (using a ziplock bag helps)

In a separate bowl beat the egg. Then add the cream cheese and mix until creamy.

Add the remaining ingredients until they become creamy.

Add the creamy substance to the mug and put in in the microwave for 60 seconds.

Finally leave it in the fridge for at least an hour.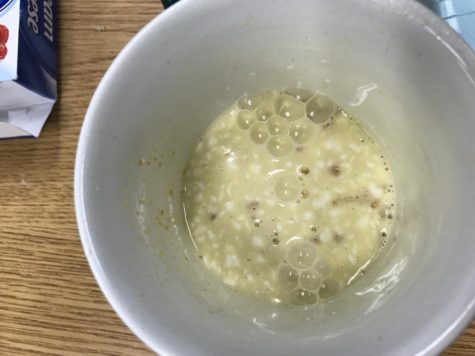 When I tried making this recipe the cream cheese was very hard to work with. It would have been easier if I had an egg beater with me. Overall it was a fail and it did not look like cheesecake at all.
Moist chocolate cake!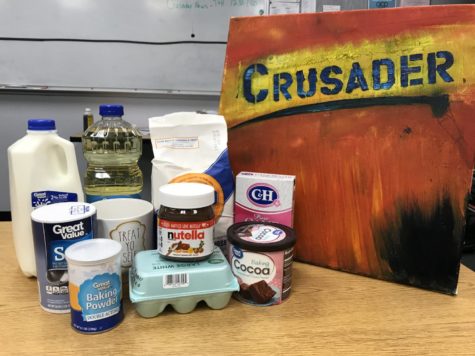 This recipe was okay per say, but depending on how sweet you like your cake it can be modified.
Ingredients:
A mug of your choice
¼  cup of all purpose flour
2 tablespoons of unsweetened cocoa powder
¼ teaspoon of baking powder
2 tablespoons of granulated sugar (add more or less to adjust sweetness)
⅛ teaspoon of salt
¼ cup + 1 tablespoon of milk
2 tablespoons of vegetable oil
1 tablespoon of Nutella
Instructions:
In a medium bowl mix all dry ingredients together.

Mix in the milk and vegetable oil until it becomes a batter like substance.

Pour the batter into the mug.

Add 1 tablespoon of nutella to the top. Don't push it down, just let it sink into the batter.

Place the mug in the microwave for 70 seconds (I had a bigger mug so I put it in twice.)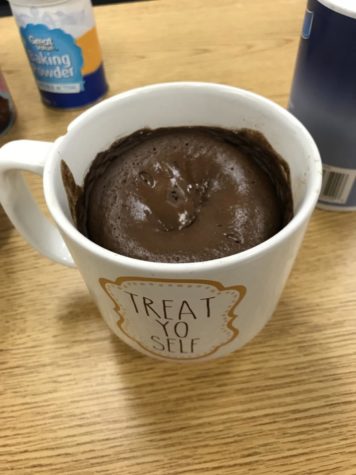 This recipe came out a bit disappointing. The crusader staff tried it and it was clear that even with the nutella it was just not sweet enough. So much for chocolate cake!
Crusader staff favorite: Chocolate Chip cookie in a Mug!
It was a fan favorite and it taste just like a cookie!
Ingredients:
1 tablespoon of butter, melted and cooled.
¼ teaspoon of vanilla
1 tablespoon of brown sugar
1 tablespoon of white sugar
1 pinch of salt
1 egg yolk
3 tablespoons of flour
Cooking spray
2 tablespoons of chocolate chips
Instructions:
Spray the inside of the mug with cooking spray.

In a bowl mix all the sugars, salt, flour, and chocolate chips. 
Pour in the egg yolk, vanilla and butter. Mix until the dough comes together. 

Place it in the mug (I just mixed everything in the mug) and cook in the microwave for 1 minute and 30 seconds. Some take more time than others.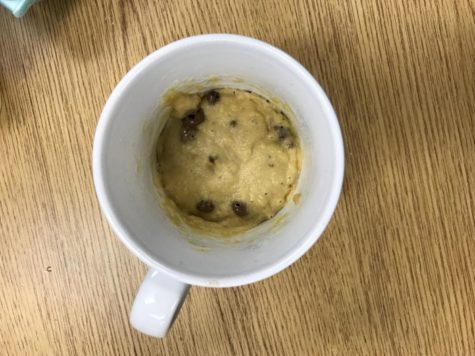 This recipe was by far the best. It nice and moist and the melted chocolate added the perfect touch. It tastes just like a chocolate chip cookie. It was amazing! 5/5 stars from the crusader staff.
Throughout this whole process it was fun baking things in a microwave, but it can get messy and tedious at times. Hopefully others have better luck at perfecting these recipes than I did, and enjoy that sweet satisfaction of baked goods in the comforts of your dorm room.