Lady Saints manage to shut down Cloud County twice
The Lady Saints defense was what kept them in rhythm as they beat Cloud County Community College. The No. 12 Seward County women's basketball team defeated Cloud County in the Greenhouse by a score of 69-52. So far, the Lady Saints are undefeated at the Greenhouse, 10-0.
Seward county struggled throughout the first half by not having enough rebounds and not enough points from the floor. Although the Lady Saints struggled, they still kept the lead against the Thunderbirds for the whole game.
"I knew it was going to be a difficult game. Cloud County took Hutchinson into overtime on Saturday night. They have a hall of fame coach, so you know you're going to go against a team that is well prepared. They're going to make you work for everything you get and for us it was a struggle offensively at times to try and get in rhythm," SCCC Women's Basketball Head Coach, Toby Wynn, said.
In the second half, the Thunderbirds seemed as if they wanted to take the lead from Seward. They came out with an 11-2 run over SCCC in the first five minutes. Unfortunately for the Thunderbirds, Sophomore, Mollie Mounsey, managed to stop their run with a few of her flawless three's swishing into the net.
The fourth quarter was the main highlight of the game for Seward. The Lady Saints started with an explosive defensive style. They forced the Thunderbirds to turnover the ball eight times in the quarter, which was too much for them to handle and cause them to fall behind.
Seward forced Cloud County into a total of 30 turnovers, with 20 coming from only steals. Freshman, Silvia Veloso, had seven and Freshman, Lexi Hernandez, had five, which was her career-high in steals.
"I thought Silvia played an outstanding game tonight. She played phenomenal for being a point guard. She lead us in rebounding tonight, which is great for a point guard. Her activity was big for tonight's game. At the end of the day, we did force 30 turnovers. Our activity in defense was our main reason we won tonight. Silvia and Lexi's hands on defense were remarkable for our zone defense," Head Coach Wynn said.
The Lady Saints ended the game shooting 38.2 percent from the floor. Leaving the Thunderbirds with just 26.4 percent from the floor.
The player of the night for the Lady Saints was Mounsey, scoring a total of 27 points, five rebounds and four steals. Mounsey was also 100 percent on free-throws (4-4).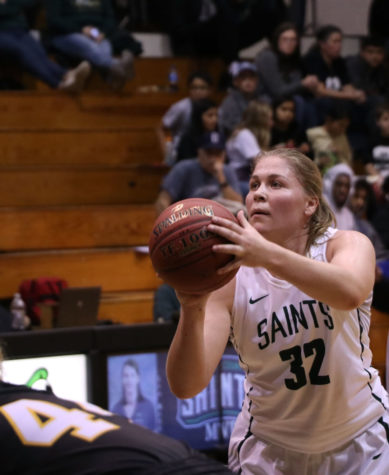 "We got a monster on Saturday. We lost to Barton Community College at their home court already. We know Saturday night is going to be a big and interesting game for us. We gotta get them first and move accordingly," Head Coach Wynn said.
Seward County will compete against Barton Community College on homecoming night on Saturday, Jan. 27, in the Greenhouse at 6 p.m.