Time for Telolith!
Student submissions are due March 9
Calling all creative students! It is time for Seward County Community College's Telolith. Submit a poem, short story, or art piece for the chance to see your work published.
Janice Northerns, an English instructor is in charge of the submissions of writings. Dustin Farmer, an Art instructor is in charge of the art submitted.
For those who don't know what Telolith is, "Telolith is Seward County Community College's student art and creative writing magazine. Any student enrolled this semester or last semester may submit, and there is no limit to how many pieces. Students may submit fictional short stories, poems, and personal essays" said Northerns.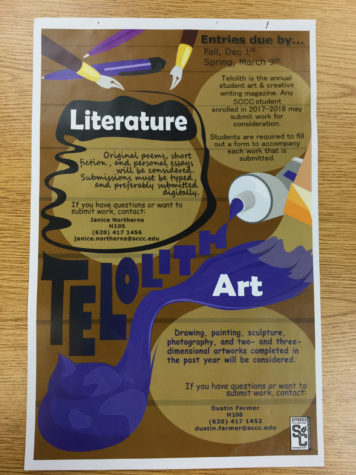 If you're not sure you want your work published or think it might not be good enough, try it anyway. "The advisors, Dustin Farmer and Janice Northerns select the content.  If a piece needs some editing or minor revisions, I will work with the student to get it into the best shape possible." Northerns explains.
Telolith has been going on for a long time and it gives the students a chance to showcase their work. "The publication has a long history of winning awards for both art and writing, and it offers a chance for us to showcase the creative efforts of our students." said Northerns.
As for submitting, Farmer looks forward to seeing what students come up with. "This is my first year to head up the writing side of the magazine, and I am excited to see what students submit".  Dustin Farmer is in charge of art submissions, and his graphic design students will work on the layout of the magazine.
All students are encouraged to participate. The deadline is March 9th. Northerns and Farmer are excited to see what students have to offer, "I want to encourage students to take a chance and send me that poem, story, or essay they've been working on.  It's a huge thrill to see your work in print, and we would love to publish pieces from as many students as we can."