Saints win nail-biter to advance
The Saints basketball team came out of a nail-biting postseason game with a win by only two points, making it the first postseason win for Saints basketball since 2015. Seward defeated Butler in the final seconds of Thursday's game to advance to the second round of the Region VI Tournament.
To begin the game, the Butler Grizzlies started a 5-0 run, before Seward came back with an 8-2 run and led the game by only one point. The Saints then extended their lead by 5 points, making the score 20-15. Both the Grizzlies and the Saints played well defensively and held each other from getting away with a lead.
But, in the last two minutes of the first half, SCCC was able to extend their lead even more, making the score 35-28 to end the half. Freshman forward, Isiah Small, finished with 14 points in the half.
It was a slow start for the Saints the second half, and Butler was able to go on a 14-5 run, to take the lead back with a score of 42-40. A put-back dunk by Ke'Sean Davis sparked the Saints into a 6-0 run, but Butler answered with another 7-0 run after a timeout.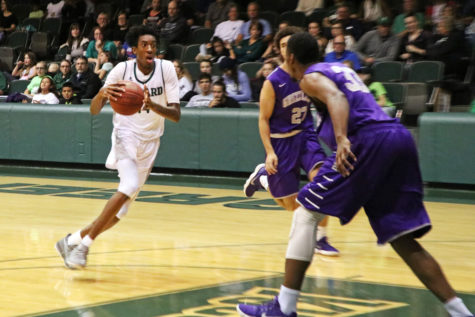 A fast-break dunk by freshman guard, Montrevion Flowers, ended the drought for the Saints and extended Seward's lead. With only 29 seconds left and the Saints leading by only 6, a Butler forward hit a three, making the Grizzlies down by only 3 points.  
The Grizzlies went into fouling mode to keep time on the clock. Seward's Small was sent to the line and made one of the two free throws, extending the lead to four points. Butler hustled down the court to drain another three, and then sent freshman guard, Devin Bethely to the line with the Saints only having a one-point lead. Bethely went 1-1 from the free throw line and extended the lead back out to two. Butler shot to threes in the last final seconds of the game, but were unable to score. SCCC ended the game with a win, 61-63.
Small(22 points) and Ke'Sean Davis(14 points) finished the game in double-figures for the Saints, while Bethely and Flowers both contributed nine points in the win.
The Saints will advance to the Quarterfinals where they will take on the Coffeyville Red Ravens on Sunday at 1 p.m. in the Hartman Arena (Park City).