Ruiz designs new crusader logo
Taycee Ruiz has a love of two things: Graphic design and animals. Ruiz designed the newest logo for the Seward County Community College student media team's website, crusader news.com. She is a sophomore anxiously awaiting to trade the miles and miles of quiet land that is Kansas for a more exciting life in the city. From her bearded dragon to her occasional naps at Walmart, Ruiz proves her life is anything but boring.
Ruiz has a passion for animals. The relationships she forms with them goes far beyond that of owner and pet. Her animals are apart of her family. 
"I have three dogs and three cats and they are all my babies. I honestly like animals more than I like people," Ruiz said.
The most recent member of her family was a last minute edition.
"My bearded dragon was an impulse buy, but one day I went in to buy my dog food and I noticed that he wasn't being taken care of and I couldn't just leave him there, you know?" Ruiz said
The art student approaches her designs the same way — a caring heart. When Ruiz designed the new Crusader logo she had every intention of letting it stand on its own
"Personally I find that a good logo stands for itself without the text. I like logos that have a play on words," Ruiz said
Ruiz joked that all it took her was couple of crying sessions and a lot of wine to gather inspiration to start designing the the logo.
"It took me a couple of days of crying … NO I'm kidding. I drank some wine, cranked up the music and I just went for it. I finished it in one sitting. It took a couple hours because it takes awhile to put the design on vector. I usually design something and then leave it alone for a couple of weeks. I'm a bit OCD when it comes to my designs" Ruiz said.
Although she knows exactly what to do when it comes to her graphic designs Ruiz describes herself as indecisive in every other aspect of her life.
"I think I would describe myself as an introvert … NO wait I would describe myself as indecisive. I never know what I want. I just let things happen,"  Ruiz said
Ruiz thinks her "go with the flow" attitude comes from her life experience.
"I think that since I'm older than some of the students at SCCC I don't try to rush anything. I've learned that things don't always go the way you want them to and that's just how life is," Ruiz said.
Ruiz struggles with juggling being a full-time student and working full-time overnight shifts at Mosaic. Mosaic is a an organization that serves people with intellectual disabilities.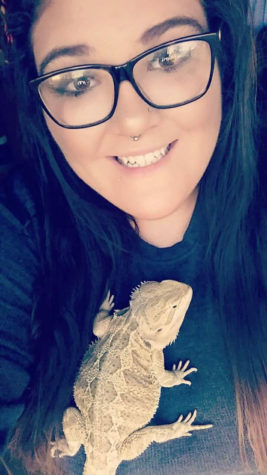 "I think it's really hard sometimes to balance everything, so I wouldn't be the person to come for advice on how to handle a busy schedule. I go to classes in the morning and in the afternoon, but I live out of town, so I always end up parking at Walmart and taking a nap before my shift." Ruiz said
Ruiz has been at Mosaic for years, but has plans of leaving after graduation.
"I've worked at Mosaic for eight years now, but after graduation I am out of here. My parents moved me here when I was young and moved without me after I graduated high school." Ruiz jokingly added "they stuck me here."
Ruiz doesn't know exactly where she wants to move, but one thing is for sure: she wants to get the heck out of Kansas.
"I want to live in the city. I just want more opportunities to get my designs out there. Once I move I might do some freelancing. I'm not exactly sure what university I want to go to, so we'll see." Ruiz said
Ruiz is graduating with an associate degree in graphic design this May. Ruiz is a regular gal who enjoys video games, spending time with her "babies" and the occasional large glass of wine.