Colores de varias culturas demuestran excelencia
la moda de differentes culturas representan.
Hang on for a minute...we're trying to find some more stories you might like.
Esta celebracion fue una exhibicion de moda de differentes culturas. Se sabe que Liberal es una ciudad con poblacion mayoría Hispana, pero este domingo pasado, 14 de octubre, Janeth Vázquez, consejera acadmica de  del condado de Seward, quiso honrar de las distintas expreciones culturales con un desfile de modas multiculturales.
Originalmente, el desfile de moda fue parte del Mes de la Herencia Hispana, pero para Vázquez es muy importante honrar e incluir todas las culturas en los eventos que ella organiza. El desfile de moda multicultural estaba abierto al público y los participantes tenían desde unos pocos meses hasta los 18 años e incluso más. Desde un paletero hasta un indio nativo americano, los trajes que se llevaron al escenario demostraron lo orgullosos que están los concursantes de su cultura.
Los vestidos folklóricos fueron los más populares entre los participantes más jóvenes. Una joven Selena Quintanilla recibió la evaluación más alta de la audiencia.
Anaylee Pizano decidió vestirse como Selena porque "a Selena le gustan los destellos y a mí me gustan los destellos".
Otra de las favoritas de los fanáticos fueron los nativos liberales, Pamela Rosales y su hijo, Ian. El dúo se robó el espectáculo con el traje de paletero de Ian. El arduo trabajo dio sus frutos cuando Ian ganó el primer lugar y un certificado de regalo de $ 50 en su grupo de edad.
Muchos de los jóvenes eran tímidos y tímidos cuando aparecieron por primera vez detrás del escenario. Después de su tiempo para brillar, los niños tuvieron un salto de confianza.
Vázquez quería recuperar a los ex concursantes del certamen del Cinco de Mayo celebrado en mayo pasado, ya que la mayoría de ellos todavía están en Liberal. En el certamen, un nuevo segmento fue la presentación de un traje cultural. Los estudiantes de primer año, Cindy Aguilar, Anali Chacón y Bianca Herrera, junto con la ex estudiante de SCCC, Bianca Prieto y la estudiante de último año de Liberal High School, María Camacho afortunadamente todavía tenían sus trajes culturales. Las chicas tuvieron su tiempo en el escenario una vez más y el público rápidamente las reconoció a todas.
Con el programa siendo extremadamente dominado por chicas, los chicos recibieron gran parte de la atención. El estudiante de primer año, Julian Avila, ganó el premio más creativo de todo el programa por su disfraz de Día de los Muertos.
"Me inspiré en la película Coco", dijo Ávila en el backstage mientras conversaba con otros participantes. "Se puso mucho trabajo en este disfraz. Todo fue hecho a mano y el maquillaje duró dos horas y media, ¡pero me encantó cada minuto! "
Solo había otros dos hombres en el show. Sophomore Chandler Harp y un nuevo residente de la comunidad liberal, Ken Dixon.
Ken Dixon, originario de Louisiana, se mudó al área liberal para una oportunidad de trabajo para su esposa. Dixon mostró su cultura india cherokee a una comunidad con un atuendo tradicional usado por la tribu. Detrás del escenario, Dixon enseñó felizmente a todos sobre su cultura. Siendo extremadamente abiertos a las preguntas, los participantes sintonizaron las historias y enseñanzas de Dixon sobre las formas de un indio cherokee mientras esperaban su llamada. Destacándose entre la multitud, Dixon ganó el primer premio de $50.
En una publicación de Facebook, Vázquez expresó su gratitud a la comunidad: "Por primera vez, creo que fue un gran éxito. "Es un sentimiento hermoso unirnos y mostrar culturas diferentes en nuestra comunidad", dijo Vásquez. A pesar de la nieve y el clima frío, gran parte de la comunidad todavía se presentó para mostrar su orgullo y amor por su cultura.
Los patrocinadores del evento incluyeron: SCCC, Elite DJs Kansas, UFCW Local 2 y National Beef. Se realizaron sorteos de certificados de regalo en los siguientes lugares: Wendy, El Super Pollo, Taqueria Chilangolandia, Viva México, El Gallo de Jalisco y Freddy.

Hang on for a minute...we're trying to find some more stories you might like.
About the Contributors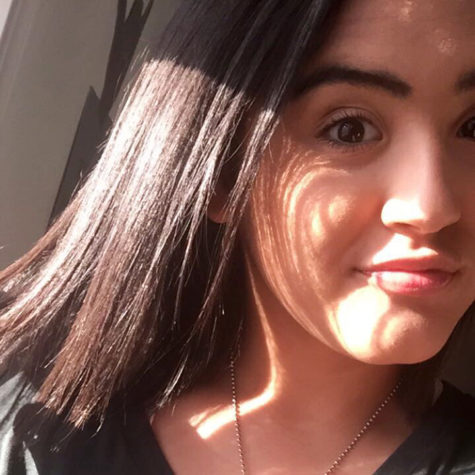 Cindy Aguilar, Club Reporter
Cindy Aguilar is 18 years old. She was born and raised in Liberal. Aguilar graduated from Liberal High School and the SCCC Industrial Vo-Tech school...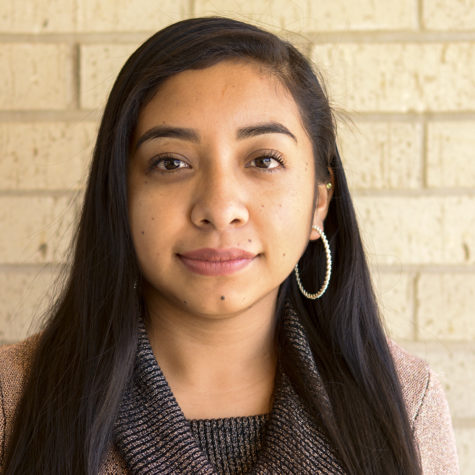 Rubi Gallegos, Photo Editor
Margarita "Rubi" Gallegos is a freshman majoring in Digital Photography. She was born in Tierra Blanca, Guanajuato, Mexico and has lived in Liberal for...