ICE picks you up! What do you do?
Gonzalez educates on preparation plans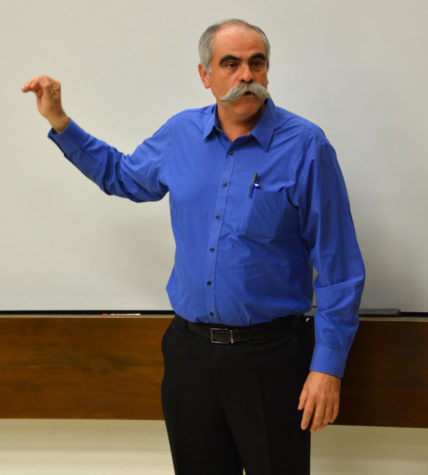 When ICE arrives at your workplace or home, do you know what to do?
It happens somewhere everyday, so Jose Luis Armendariz Gonzalez said the first step is to have a plan. The founder and president of Informate Migracion in Chihuahua, Mexico visited Liberal on Oct. 27 to talked about the ways and steps there are to be prepared if Immigration and Customs Enforcement (ICE) shows up at your front door.
"Informate Migrante is a platform that promotes respect, the security and rights of immigrants," Gonzalez said. "This is a perfect opportunity to educate everyone on how to handle these types of situations."
He explained that immigrants should always have a plan. The first step is to know your rights as an immigrant.
"When stopped by an ICE officer, you shouldn't say a word to them but simply show them a rights card," he said. 
The card explains that everyone has certain basic rights. It explains to the officer that the card holder is exercising the right to remain silent and will not sign papers without the advice of an attorney.
Gonzalez stressed that after showing the rights card, call a lawyer immediately.
When ICE shows up to work, don't resist or run. Get rid of any weapons. Do not bribe or threaten an authority. Gonzelez stressed again, "Do not say a word until a lawyer is present."
This can happen at anytime and to anyone, so it's better to be prepared by simply having a rights card and knowing what to do.
"The only way we can start to make a difference is by educating people about immigrants and the rights they have," Federico Guevara, journalist of Univision, said.
Miss Cinco de Mayo, Amy Zeledon, also shared her opinion about this organization.
"It's really important that we let everyone know about what's happening and how we can help because we don't know when it will happen," Zeledon said.
For more information on being prepared for ICE, visit: https://informatemigrante.mx/.