SCCC encourages students to follow current COVID protocols
Seven members of the Lady Saints volleyball team were quarantined on Aug. 30 due to one positive case within the program. Due to COVID protocols, the Lady Saints will travel with only half their team to the Cisco/Ranger tournament this weekend.  
COVID protocols are a little different this year and may seem strange and confusing but fully vaccinated players or students do not have to quarantine if exposed. The situation surrounding the Lady Saints has opened up a discussion at Seward County Community College about the current COVID protocols and how they affect students.  
"
"This year we are able to have that…to get the community, fans, supporters, and alumni back in the gym."
— Kenny Hernandez
Celeste Donovan, vice president of student services, is seeing more college students starting to get vaccinated. 
"I know that there are quite a bit more students who have become open to the idea because they do not want to have to quarantine or not play if there is an outbreak on a team," said Donovan.
In order for SCCC students to live in the dorms, they must have proof of vaccination or consent to being tested. Other students that commute are not required to have proof of vaccination however everyone must wear a mask inside the buildings. 
"We believe in self-choice," Donovan said. "The more vaccines that are given, the safer we believe you are because symptoms are less severe." 
Donovan reinforced the importance of wearing masks, washing hands thoroughly and often as well as practicing social distancing whenever possible.
The current COVID protocols are located on the SCCC website. Students who believe they may have COVID must immediately contact the Department of Health to get tested. If they were in close contact with a positive case, they should use the self-report form that is also available on the SCCC website.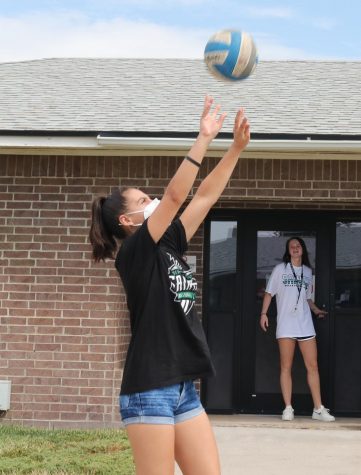 Students living on campus have their own designated quarantine area. Laura Almeida, a physical education major from São Gonçalo, Brazil, is one of the volleyball players who moved out of her room into Hale Court for the designated time. 
"We are comfortable, but there is not much to do. We study and try not to freak out," Almeida said.
As a student-athlete, Almeida and her fellow teammates who were also quarantined do home workouts together and never skip an opportunity to touch a volleyball and stay in practice. 
Kenny Hernandez, assistant athletic director for communications, also discussed the importance of following SCCC protocols to protect student-athletes.
"It is a group effort from the community…the safety aspect of respecting the protocols reflect on all students, especially our student-athletes," Hernandez said.
The assistant athletic director said the guidelines to attend volleyball games are different this year. 
"A lot of our conference's rules from last year are not rolled over to this year… so there is a mask mandate, but the concession stands are fully open, there are no tickets for the games, and no limited capacity.
"I am excited! Last year we were not able to have a full crowd and get the energy back in the Greenhouse," he continues. "This year we are able to have that…to get the community, fans, supporters, and alumni back in the gym."
For more information about COVID protocols on campus contact [email protected].