TRIO offers help in a lot of ways
A lot of first-year students come to college worried about things such as where to find their classes, what clubs are available and how to find the way to pay for college. Although FAFSA and student loans are what most students think of, TRIO can be a great option that goes unnoticed. 
TRIO is a program designed to develop life skills that will help students continue to succeed. 
"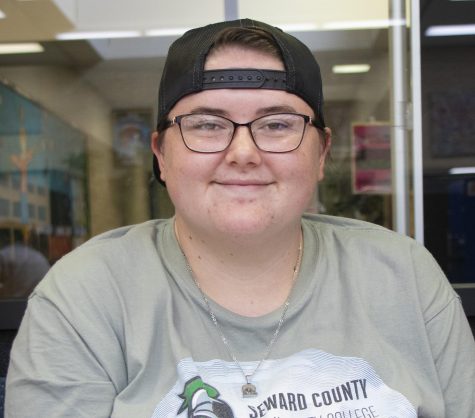 The people in this organization are here to help you succeed!
— Madelyn Garrison
"We are a federally funded grant program designed to help students that are at risk … we work with first-generation college students, students accounted for as a lower financial demographic, or students with disabilities," Joel Figgs, director of student support services, said. 
The TRIO Program provides a variety of different support options and opportunities for students at SCCC and the community. 
"We mainly just try to be an additional support system for our students that is our main goal," Figgs explained. "Tutoring, academic advising, and transfer assistance with advisors are just some of the many helpful ways we try to support our students." 
It doesn't take long to sign up for this organization. Figgs said students should provide proof of income from the 2019 taxes and fill out some paperwork provided in the TRIO offices. Libby Garcia is able to help with the process.Sophomore criminal justice major Madelyn Garrison mentioned that one of the main reasons she joined TRIO was because she learned that it helps people with their studies. In addition, Garrison also said she likes knowing that she can receive help and support from all the people within the organization. 
"If I could tell anyone a reason for as to why they should join, it would probably be: The people in this organization are here to help you succeed! Not only academically but also in other ways as well," the sophomore said. 
In addition, Garrison also mentioned that thanks to TRIO she has been able to do fun activities such as going to different college campus trips and getting the chance to talk with their academic advisors. 
Rogue Reveles-Montelongo, a sophomore majoring in mass communications, also mentioned some of his experiences while being in the TRIO program. 
"Mrs. Garcia was the one to convince me to join," he said. "I honestly had no idea what it even was but so far it has been one of the best decisions I have made. the people in charge are just overall really kind and great people." 
Reveles-Montelongo said his favorite part has been the events the organization does throughout the year. 
"They should join because I think there are a lot of people that haven't heard about TRIO. They have no idea about the help they will receive if they join," Reveles-Montelongo said. "It's all about choice and seeking help both academically, financially and overall."
Students interested in joining TRIO should contact Joel Figgs or Libby Garcia in Room A124.
---
Meet the "dream team" that makes up TRIO:

Joel Figgs is the Director of Student Support Services here at SCCC. As the head, Figgs oversees most of the decision-making that goes into what makes TRIO run. 
Kit Hernandez is the academic advisor for student support services. Hernandez works closely with students when it comes to career advising and in addition, helps students with the enrollment and scheduling process every semester. 

Libby Garcia is the program coordinator. Garcia works with the secretarial aspect of the organization by greeting students that are interested in joining, answering the phones, and coordinating meetings.
Blanca Castro is the education specialist who also works closely with the students. Castro coordinates all the tutoring sessions for students who come in looking for additional help.