Squiggly eyebrows leave SCCC unimpressed
Makeup trends are always changing and the latest fad has Seward County Community College students scratching their heads, grabbing their eyebrow pencils and looking up youtube tutorials.
Squiggly eyebrows are achieved by applying gel to the brow hairs in a wavy way. Next, you fill in the eyebrows by applying the brow product slightly above the brow and then back down to the normal way to make the squiggle. Last, clean up the brows by applying concealer.
For some, the idea of a squiggly eyebrow is a trend too far fetched for their taste. "It's a lot of work for no reason at all, it's not cute," Kaitlyn Van Vleet, drafting major, said.
Although Van Vleet would never try the trend on herself, she could see why others experimented with the latest fad. "It's weird and different and maybe a little difficult, so people want to challenge themselves to see if their skills are decent," Van Vleet said.
While Van Vleet hated the trend from the very beginning, others were curious and turned to their favorite youtubers for guidance. "I haven't tried it, but I have watched tutorials over them." Haley Lujan, business management major, said.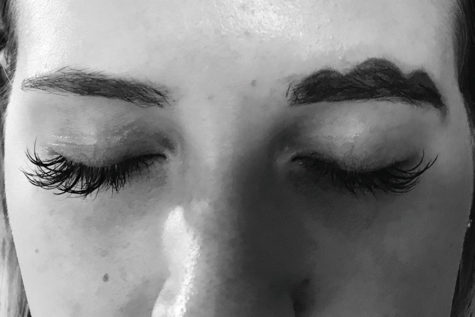 When Lujan finished her research, she found herself confused. "I'm not sure why it became a trend, but let's not!" Lujan said, playfully. She would rather see "more makeup ideas involving glitter or more out there makeup" becoming a more popular trend rather than the squiggly eyebrows.
Disapproval over the squiggly eyebrow trend continued to echo the halls of SCCC. "Squiggly eyebrows [are] just so unattractive and honestly it just looks like someone was bored one day and decided to go crazy!" Hazel Arafol, medical lab technician major, said.
She continued to express her disdain and thoughts on why this trend has become so popular. "It's so popular because people get bored and they want to try something different and when a lot of people try it. All of a sudden it becomes a trend because EVERYONE TELLS EVERYONE!" Arafol said.
She quickly added that no one would ever catch her sporting the squiggly eyebrow trend. "No. Gross. You will never see me with squiggly eyebrows, like what.the.heck." Arafol said.
Trends come and go, but one thing is for sure: SCCC students are not impressed by the squiggly eyebrows.