SCCC sweeps Pratt in first round of Region VI Tournament
The Ranked 3 Lady Saints volleyball started off the Region VI Tournament on the right foot by sweeping Pratt on Tuesday, Oct. 31. Before the game started, the Lady Saints already knew they had the win, but they didn't perform their usual best.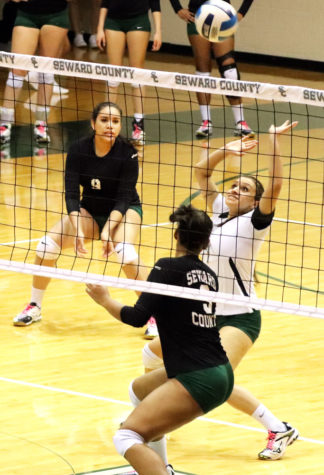 In set one, the Lady Saints took control by having an early lead. Even though the Lady Saints showed no mercy against Pratt, the game didn't seem to have the same amount of hype as previous games. Unfortunately for Pratt, they weren't able to catch up. This led to a huge lead for Seward, ending the set with a score of 25-14.
In the beginning of set two, SCCC set the tone by taking another lead. Although the Lady Saints had an early lead, Pratt snuck points on the board by taking advantage of Seward's errors. The Lady Saints picked up their rhythm and ended their streak of errors, ending the second set with a score of 25-15.
For set three, Pratt showed no fear against the Lady Saints and took a lead in the beginning. Set three was mainly the highlight of the match; both teams traded points until the score was finally tied at 20. It felt as if Pratt didn't want to end the match early, but their errors kept them off the scoreboard. Eventually, the SCCC found their momentum and gained their remaining points off of Pratt's errors, finishing with 25-22.
Although the Lady Saints took the win for the first round of the tournament, they didn't do their best on the stats. Seward finished their match with a .222 hitting percentage, 2.0 blocks, 47 digs and 9 aces. Giovanna Tapigliani was the only Lady Saint to receive double-digit kills, ending with 10 kills on 16 attempts. Mariana Nascimento finished with 9, hitting with a .438 hitting percentage. Giovanna Kuntze finished the match with 30 assists.
The Lady Saints will be facing the Colby Community College Trojans on Nov. 5 at 2 p.m. in the semi-finals of the Region VI Tournament hosted at the Greenhouse.