Trick or Treat Street: a Spooky good time
Monster Mash echoed through the room, as the yellow lights were dimmed and was replaced with glow sticks and neon lights. Outside of the student union, eager children awaited entry to Seward County Community College annual trick or treat street, where kids in costumes run from one club's booth to others in hopes of filling their bucket full of candy by the end of the night. The event began at 5:30pm, but a line started to form long before then.
SCCC clubs were spread throughout the room with candy and games were set up. SPEC, which stands for students,promoting,educational,careers had a "pumpkin patch" activity ready for kids to dive into.
"Kids are going to plunge their hand into a bucket full of leaves and if they find a rat they get a bonus prize," explained Amy Fox and Cassidy Velazquez, both education majors and members of SPEC.
Games ranged from glow in dark ring toss to Skee-Ball. HALO decided to set up Whac-A-Mole with a student juggling the role of the mole. Three large buckets of candy dominated their table.
"They get to play Whac-A-Mole and they also get a handful of candy," said Frances Brown, sponsor of the HALO organization.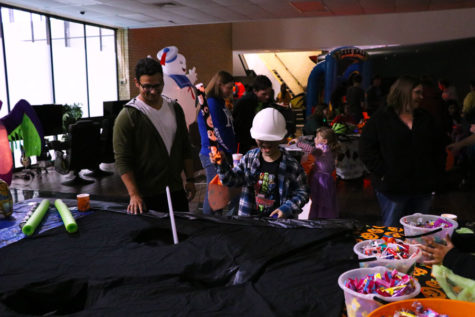 While Halo entertained kids with a moving target, SCCC cheer squad had our Saints mascot by their table ready to take a picture with any kid willing.
Trick or treaters and parents were excited to participate in each club's activities.
"We're definitely excited to play Whac-A-Mole," said Lacey Noterman, parent of an eager trick or treater.
This was the first time the Noterman family attended the event and they had high hopes of returning next year.
The student union was a buzz as little children dressed as chefs, scarecrows, paw patrol characters and mini Cleopatra's went from booth to booth. Candy was handed out and an abundance of happy and excited kids filled the student union all night.