Students taste the world at Kansas day celebration
As you walked into the Hobble Academic building, the smell of food instantly hit. People smiled and followed the smell to the library where there were endless tables filled with homemade food. It didn't take much to convince students to grab a plate and dig in.
The big potluck luncheon on Jan. 29 was how Seward County Community college celebrated Kansas' birthday.
Students had the opportunity to eat foods from various cultures such as traditional American dishes like chicken noodle soup, Wisconsin mac-n-cheese, venison and some traditional Mexican dishes like pozole, enchiladas, tamales, chilaquiles, mole, chiles rellenos and so much more!
It was hosted in the SCCC library by the college's inclusivity and civility team made up of Rachel Coleman, executive director of marketing and public relations, Lindsey Tuman, director of the library, Annette Hackbarth-Onson, dean of students and Alaina Rice from registrar.
"The purpose of this event was making sure, especially with a diversity on campus, that we're aware of the culture and of Kansas history, especially for foreign students who might not know what a rich history Kansas has," Jerry Odle, food service director, said.
Many dishes were appreciated and some more than others among students.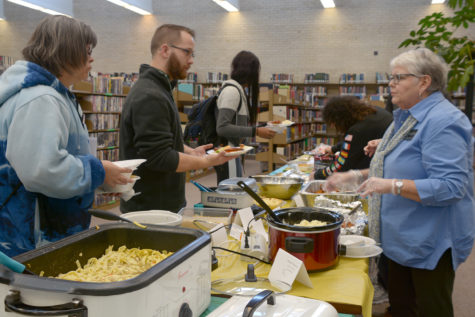 "I really enjoyed all the vegetarian dishes, my favorite dish I had was the vegetarian rice and the samosas!" sophomore music major, Biviana Rodriguez, said.
Students from different clubs also got the chance to bring their own favorite dishes to add to the mix of cultures. Crusader News made Gorditas while the Band brought Mexican rice and dulce de leche cheesecake.
Josh Revord, application help desk support, is originally from Wisconsin and brought a dish called Wisconsin mac-n-cheese. He used actual cheese from Wisconsin to make this dish. When asked why he chose to make this dish in particular for Taste of Kansas, Revord said, "I feel like it represents the midwest as a whole because it is the center and it takes influences from everywhere."
This event was one of the many first ones on campus, potentially starting a tradition.
"We would definitely try to do this again, I'm very happy that people came and almost all the food we brought was gone very fast. We planned to make food for about 200 people so it was a great turn out," Rachel Coleman, Executive Director of Marketing and Public Relations, said.
The desert was a big hit among the students, one favorite in particular was the baklava cake, a traditional greek dish.
"It was so amazing, I really loved the baklava cake the most!" Arturo Don Juan, sophomore accounting major, said.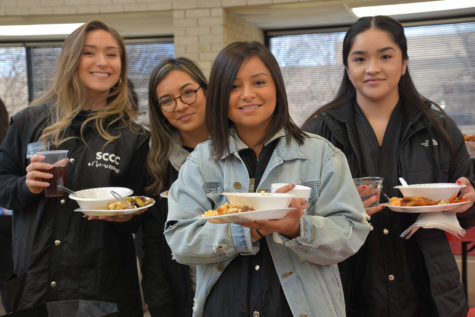 A couple dishes had a historical background to them such as the bacon wrapped water chestnuts and the Kansas beef roll prepared by Great Western Dining.
"The bacon wrapped water chestnut dish is actually an important part of SCCC history – it's been served at nearly every faculty function for 20 years. The beef roll is a recipe from Fred Harvey, who was a pioneer for dining cars on railways. We actually had a Harvey House here in Liberal," Odle said.
The Colvin Adult Learning Center played a very important part in this event, bringing over half of the Mexican dishes, providing about 20 in all.
"The instructors and students got the opportunity to work together on the dishes and planning it out. The students were very excited to be a a part of this event and being able to share their dishes made them super happy!" Sonia Hernandez, transition coordinator ​for adult education, said.
An estimate of more than 200 people showed up to Taste of Kansas. There were at least 50 dishes brought to the celebration, from more than 10 countries around the world.