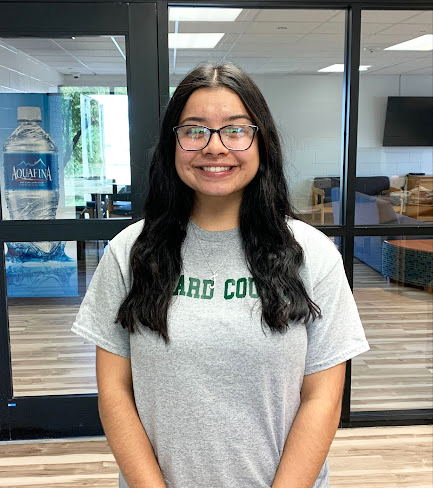 Who are you, and where are you from? 
My name is Jennifer Lopez. I am from Ulysses, Kansas. I grew up in Ulysses my whole life. I was born and raised there. 
What made you want to attend Seward County Community College?
It's closer to home and the community seems really nice.
What are you majoring in?
I am majoring in dental hygiene. I chose this major because I felt that there isn't many Latina dental hygienists and I wanted to add to that percentage. I think there's only about 10 percent.
Are you doing any clubs? 
Yes, I'm doing HALO, I might do TRIO, and I don't know if there's any other clubs but if there is I might sign up.
What do you do in your free time?
In my free time I like to go lift. I like lifting. It's very therapeutic, it has helped me mentally and physically. 
Do you sleep with a nightlight?
Sometimes, it depends. Like, I have a wax warmer melter and sometimes I leave it on. 
Morning person or night owl?
I would say night owl. I don't like waking up early, I like sleeping in. 
What's your favorite color?
My favorite color is turquoise. I think it's such a pretty color. I've always liked it since I was little, it's a very relaxing color.
What is your favorite class so far?
My favorite class so far is anatomy and physiology. The teacher that I have is super funny and he's really cool. He explains everything very well and I enjoy that class a lot.
What's one thing about you that most people don't know? 
One thing about me that most people don't know is that I cry when others cry. I really don't know why I just end up feeling their pain or their emotions and it makes me cry.