The War on DACA continues
SCCC students make their voices known
Hang on for a minute...we're trying to find some more stories you might like.
It has been a rollercoaster ride in the White House and in many homes across the United States after the Trump administration called for the end of DACA (Deferred Action for Childhood Arrivals program) last September. 
The discussions and developments change every day. But, the same questions remain in the forefront: Will children brought to the U.S. illegally get to stay? Or will they have to leave when their DACA documents expire?
Since the announcement, there has been a great debate on how to make DACA better. This program allows children who were brought to the U.S illegally to stay in the country. DACA has helped many aspiring young people, who are known as "dreamers."
These dreamers are able to obtain a social security number, a bank account, a license, and even help to go to school. Some of these dreamers attend Seward County Community College.
"DACA is more than just a temporary protection," Sarahi Aguilera, sophomore criminal justice major, said. "It's a card that holds my whole future."
Right now, Congress has to come to an agreement to put DACA on the budget just so they can try to make a decision on it.
Republicans and Democrats aren't agreeing and Democrats are threatening to withhold votes.
This may cause a government shutdown on Friday, Jan. 19.
Uncertainty about the program reached a new high last week when Judge William Alsup, a federal judge in California, temporarily blocked the ending of DACA.
This will allow current participants to keep renewing their status but no new applications will be received.
Aguilera saw hope in this action despite calls for the Supreme Court to overrule this decision.
"When I heard the news about DACA being reinstated I started calling my dream family," Aguilera said. "It was a moment of happiness because I had a few friends who had lost their protection already, and this was a step forward in the fight for DACA."
Aguilera is part of an organization, Sunflower Community Action, that has been helping her in the fight. She has been sent to Washington D.C.  multiple times to talk to Congress in efforts for a solution to DACA. Now, Aguilera is currently in D.C. fighting for a Dream Act.
"It was such an amazing experience. It was life changing, and my first trip to D.C. helped me figure out something that I love to do, and that is to fight for human rights," the sophomore said.
Janeth Vazquez, transfer coordinator at SCCC and  an active Sunflower Community Action group member, said that since the D.C. trip progress has been "extremely disappointing."
Congressmen, such as Raul Labrador (Idaho) and Bob Goodlatte (Virginia), have stepped forward for a solution. They introduced the Securing America's Future Act. This act includes a three year renewable legal status that will allow dreamers to work and travel overseas.
Other details include increased border security and the construction of a border wall separating the U.S and Mexico. Dreamers will no longer be allowed to petition for their parents.
Other solutions include a bipartisan deal that will offer dreamers a pathway to citizenship, but will take up to 12 years to complete. It can be reduced by up to two years if previously in DACA. It also allows parents of dreamers to have a renewable three year work permit.
As the struggle to come up with a new Dream Act continues, Vazquez acknowledged that "the dreamers are just a ball of emotions that go up and down."
What's next for Dreamers? Vazquez said that as of right now, "the best thing is to call our elected officials so something can get done and keep our families safe."
The DACA movement continues to stay strong as dreamers strive for a new Dream Act and make their voices heard.
For more updates on the fight for DACA in Washington D.C., follow Aguilera on instagram at @saaraarraahhiiiii
Hang on for a minute...we're trying to find some more stories you might like.
About the Writer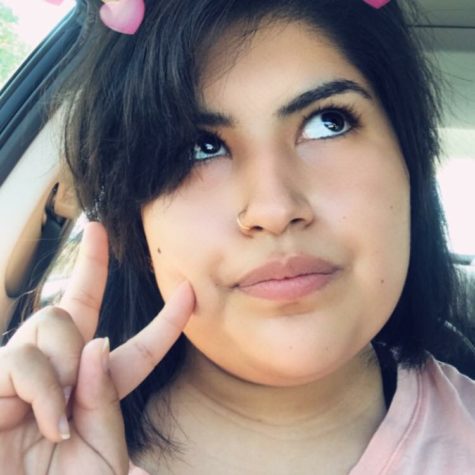 Michelle Mattich, Co-Editor
Michelle Mattich was born in El Paso, Texas She enjoys writing, and listening to music. She also enjoys reading a good book and watching Netflix. Michelle...