A piece of paper does not determine who you are
Vazquez, Aguilera share their story
Sharing a personal story might not always be easy, especially when it's a big secret that you've had most of your life.
"No matter the legal status in which I stand in, I will not let it define me. I want to go above and beyond," Sarahi Aguilera said at the Supporting Undocumented Students on Campus presentation at Seward County Community College on Feb. 12.
Aguilera, a sophomore at SCCC, shared her personal story on being an undocumented student and how DACA affects her. Janeth Vazquez, SCCC's academic advisor, stood next to her in a show of support and even shared her own story during the DACA update and student panel for faculty, staff and students. Vazquez had once been in the same position that Aguilera is now in.
"I had a big secret and it was a secret I couldn't share with anyone because I would get judged and I didn't want people to think less of me," Vazquez said.
The duo admit that the majority of undocumented students do not let others know about their situation. Vazquez said she went to a few people but at that time, they did not know how to help her. A struggle of her's was that her dad was deported just as she was starting college at SCCC years ago.
"I can still describe it like it was yesterday. They knocked on the door. They wore a different attire [than police]. They didn't tell us it was ICE. They said they were here to look for my dad," Vazquez said.
Vazquez's dad worked for Conestoga at the time, so her Mom let them in thinking it was work related.
"We let them in our house, but when we let them in our house, they pulled out their badge. My dad was in the room and they said 'We're here to take your dad and it's a feeling that I can't get over today. It's been since 2008 and it still feels like it's yesterday," Vazquez said.
Vazquez was lucky enough to obtain her citizenship.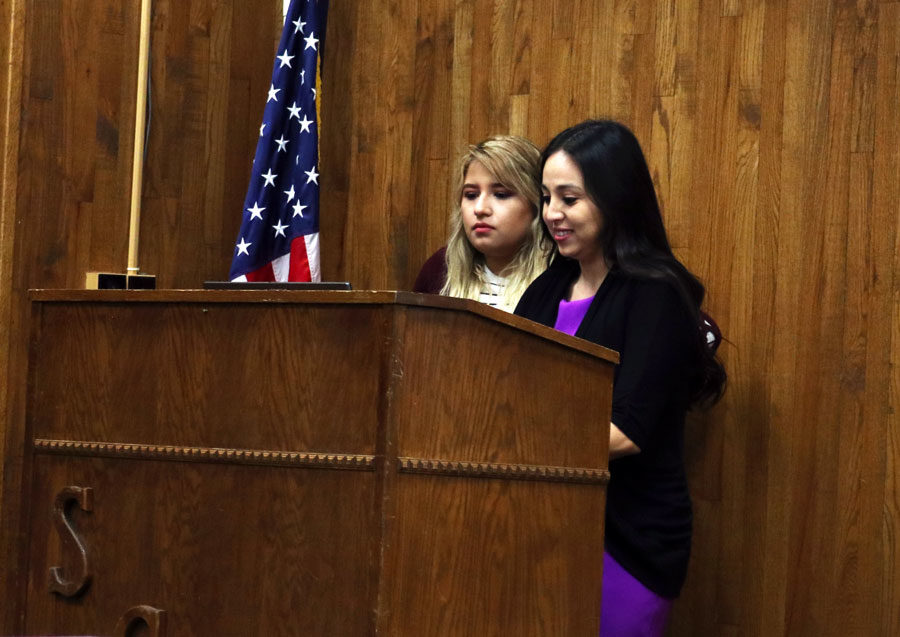 College and being undocumented
After 10 years, Vazquez still suffers from anxiety due to that moment. So now she helps undocumented students at Seward because "it's not fair, how can one piece of paper detain somebody's success in life."
Many students don't realize that being undocumented will be a struggle until college.
"Being undocumented didn't hit me until I wanted to start college. I couldn't apply for financial aid, but luckily Seward has been very affordable," Aguilera said.
"
Being undocumented didn't hit me until I wanted to start college.
— Sarahi Aguilera
Aguilera plans to transfer to Wichita State University, but she knows it won't be easy.
"It is way out of my pocket because I cannot apply for any financial aid," the sophomore said.
Although Aguilera knows transferring and being at WSU will be a struggle, she doesn't let that hold her back.
"I want to go above and beyond to show everybody that a piece of paper does not determine who you are, but it's just so hard to keep going when there is just so much you can do," she said.
The DACA permit was a way that Aguilera proved herself. But with all the back-and-forth, she said, no one really knows what will happen tomorrow. DACA allowed her to get a job and go to school.
"I don't understand why I have to keep proving myself to people who tell me to go back home when this is the home I know. When people tell me to go back to my country, but that's a country I know nothing about. This is the place I deserve to call my home."
Aguilera mentioned that it's hard to plan a future when you don't know what might happen tomorrow, no one knows. One thing Aguilera knows for sure is that she wants to give back to her community and call this [The United States] her home. She has spent a lot of time this semester traveling to Washington D.C. and Topeka to speak to let her voice be heard among the Kansas legislature and representatives.
Updates on DACA
After Vazquez and Aguilera shared their stories, Vazquez shared a presentation giving more information about undocumented students and how DACA can be helpful, but it is also just like a rollercoaster. One day, it's said that DACA will stay and another day something different is said.
In the presentation, Vazquez demonstrated that many students don't think it's worth going to college. They pay for their education out of pocket and end up with a degree. But, that degree may mean nothing because at the end of the day, you may still be undocumented and could be deported.
Psychological impact of this rollercoaster was another point Vazquez brought up. She encouraged SCCC to be supportive of its students. Some may think it's not even worth living for.
One thing she really stressed was language. Language matters. Be informed. Vazquez said that being called an illegal alien or just even illegal immigrant hurt her and does hurt others as well. She encouraged those attending the panel to be empathizing and supportive.
As of January 10, DACA has been reinstated. They are accepting renewals, but are not taking new applications. Not everyone is eligible for DACA. Vazquez mentioned that it is said in March there is a possibility that Dreamers will start being deported. It is encouraged to renew your DACA permit when you can.
Vazquez ended the presentation by sharing the quote, "See us not as a burden, but a potential, because (people) need to open their minds and see the true potential behind every individual."